South Korean mobile phone maker Samsung Electronics has been long rumored to plan the launch of a successor for its Galaxy S4 smartphone, and some new info on what the device could pack in terms of features has emerged now.
Apparently, Samsung in planning on packing the phone with built-in conference call capabilities, and might also allow Galaxy S5 owners to talk to multiple users at the same time.
The handset, supposedly set to arrive on shelves as Samsung Galaxy S5, will also feature various other software enhancements, a recent post on SamMobile notes.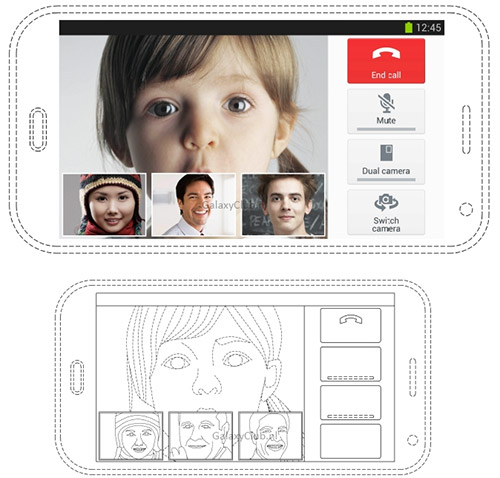 As expected, Samsung is still months away from making the smartphone official, but it has already started to get things in order for the release.
According to GalaxyClub, the company has filed a document with the Korean Intellectual Property Rights Information Service where it describes the aforementioned built-in conference call capabilities of the Galaxy S5.
The photo attached to this article has been extracted from the aforementioned document, and supposedly provides us with a glimpse at what the feature might look like on the smartphone.
It appears that users will be able to make video calls using both the front and back cameras of the smartphone, while also having the option to view video feeds from other people, which are displayed at the bottom of the screen.
What remains to be seen is whether Samsung will launch the feature as standalone software or as an update to the ChatON application, given that the service already packs one-way conference calls, as SamMobile notes.
If this feature indeed arrives on Galaxy S5, Samsung will be able to tout the phone as a great option for enterprise users interested in staying in touch with multiple people at the same time.
However, until an official confirmation on this is provided, we'll take the info on Galaxy S5's built-in multi-user conference capabilities with a grain of salt.