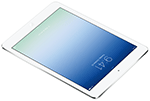 The latest rumors on Apple's future products were shared on Monday by DigiTimes, which claims that Apple will launch an iPad with a larger display in the second half of 2014. Rumors of a larger iPad, with a display size around 12.9 inches, have picked up steam in recent weeks, though claims of the launch window for such a device have varied throughout 2014.
As for the so-called "iWatch," Monday's report suggests that device will come to market sooner. Supply chain sources reportedly believe that Apple plans to launch the device in the second quarter of calendar 2014.
Pilot production of the "iWatch" is already underway, the report claims. But Apple is said to have been hurt by low yields of the product, which reportedly led for mass production of the watch to be delayed until the second quarter.
Quanta is expected to be a key supply chain parter for both the "iWatch" and bigger iPad, According to DigiTimes, the company has already landed orders for the bigger iPad, while it is currently competing with Inventec and Foxconn for "iWatch" orders.