Qualcomm today announced the availability of its Toq smartwatch computer, a device which competes with the $300 USD Galaxy Gear from Samsung and the $199 USD SmartWatch 2 from Sony.
Priced at $349.99 USD, the Toq is the priciest of the high profile smartwatch offerings. Powered by a special version of Google Inc.'s (GOOG) Android operating system, Toq does have some unique perks, such as the low power color E-INK-like Mirasol display, a proprietary technology developed at Qualcomm and inspired by butterfly wings. It also features wireless charging. Basic included apps include an Accuweather Android weather forecast app, an optimized version of the Android E Trade Financial Corp. (ETFC) app, a messaging app, and a phone answering app (in case you want to talk into your watch).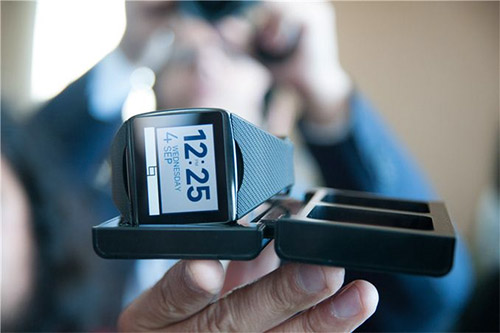 The device launches on Dec. 2 -- a wild day of online shopping commonly known as "Cyber Monday".
Qualcomm is best known for its Snapdragon family of mobile chips, which are a popular third party solution for tablets and smartphones. While Samsung does produce reference platforms for OEMs integrating these chips, it has rarely actually released a device to the consumer market, making Toq a rather interesting oddball product to watch.
Both Google and Microsoft are rumored to have their own branded smartwatches under development (under the respective Nexus and Surface brands).