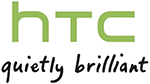 HTC's follow-up to this year's One flagship smartphone will pack an even larger display than its predecessor, as well as the newest version of Android at launch. This according to well-sourced leaker @evleaks, who posted specs on the as-yet-unreleased device. The newest information on the M8's specs indicates a Snapdragon 800 processor powering the device.
For its display, the M8 is said to pack a 5-inch, 1080p screen. That would give it an extra 0.3 inches beyond the display found in the HTC One. It is uncertain whether HTC will choose to increase the footprint of its next flagship over the One or whether it will instead reduce the bezel surrounding the screen, allowing it to put a larger display into the same form factor.
The newest reports also say that the M8 will run Android 4.4 KitKat. previous leaks regarding the device have indicated that it will be the first to run Sense 6.0, the newest version of the "skin" HTC puts over Google's Android operating system.
In addition to these features, the M8 is expected to have a fingerprint sensor, adding another level of security to HTC's devices. Earlier reports had the M8 launching before the end of 2013, but the latest rumors have HTC launching it on all major U.S. carriers some time before the end of the first quarter of 2014.