One of Samsung's high-end Galaxy devices may very well feature the company's Youm screen technology, which would allow the display to wrap around the sides of the handset. Sources familiar with the company's plans tell Bloomberg that either the successor to Samsung's Galaxy S4 or its Galaxy Note 3 may feature the three-sided display technology, but Samsung may also introduce another premium handset featuring the technology. The technology could prove to be a means of advancing the feature set of high-end smartphones, a product segment believed by some to have largely matured over the last 18 months.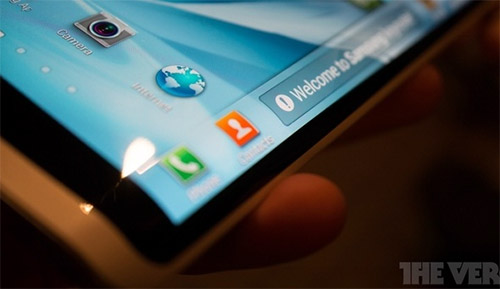 Samsung has already shown off its Youm technology in the past year, showcasing devices with screens that curve at the edges. Those edges can still display information, and Samsung proposed using them to allow consumers to glimpse data from their smartphones without having to fully activate them.
The flexible AMOLED technology was initially said to be set for a 2012 debut, but difficulties in production held it back until this year. Even this year, the technology only debuted in quick glimpses at CES, with the South Korean tech giant promising that it would appear in phones in the near future.
Curving displays may become more popular over the next year or more, as Apple is also said to be working on iPhones with such technology. Samsung's South Korean rival LG is also pushing out curved devices, with its LG G Flex curved handset said to hit American shores in the coming months. Besides the Youm technology, Samsung has also revealed the Galaxy Round, which brings the curve to the entire smartphone form factor, not just the display.