Advanced Micro Devices will bring console-style graphics to PCs with its chips code-named Kaveri, which will become available in desktops and laptops starting early next year.
The announcement was made during a keynote delivered by Dr. Lisa Su, senior vice president and general manager, Global Business Units, AMD, at the APU13 event.
"Kaveri" is the first APU with HSA features, AMD TrueAudio technology and AMD's Mantle API combining to bring advanced graphics, compute and efficiency to desktops (FM2+), notebooks, embedded APUs and servers.
Under the HSA specifications, program execution can be offloaded to other processing resources such as GPUs in servers, PCs and mobile devices. By allowing parallel code execution across CPUs, GPUs and other processors, AMD hopes the chips will deliver performance improvements while drawing less power.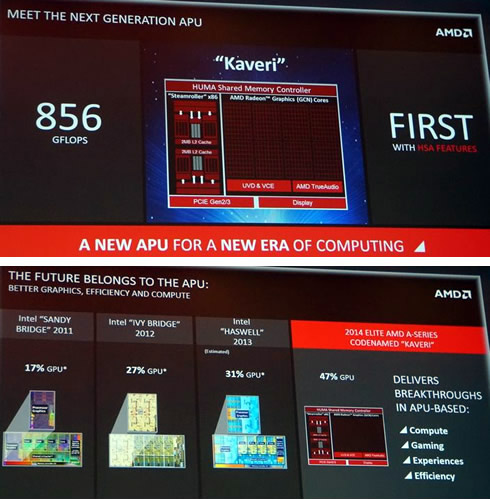 Kaveri will first reach desktops in January and will follow in laptops. The chips will also be used in servers and embedded systems.
The chips promise to bring console-style gaming to PCs by combining AMD's latest graphics and CPU processors code-named Steamroller, Su said. Kaveri will have up to four CPU cores and eight GPU cores, with the graphics based on the same technology used in the upcoming Microsoft Xbox One and Sony's PlayStation 4 gaming consoles. The GPU will be composed of 8 GCN 1.1 CUs, which would put the SP count at 512 SPs (equivalent to desktop Radeon HD 7750).
The new APU will deliver up to 856 gigaflops of performance and outperform Intel's fastest PC chip, code-named Haswell, Su said.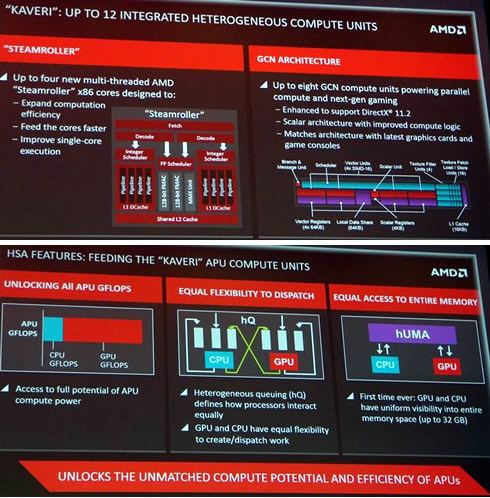 The HSA Foundation is also releasing APIs so programmers can write programs without worrying about what hardware the code will be executed on.
FM2+ shipments to AMD's customers are slated to begin in late 2013 with initial availability in desktop offerings scheduled for Jan. 14, 2014.