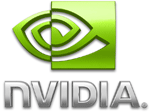 Nvidia has today officially realesed its new flagship graphics card, the Gerofce GTX 780 Ti, as the company tries to compete with AMD's Radeon R9 290X.
The Gerofce GTX 780 Ti is based on the GK110 GPU, also met at the GeForce GTX Titan, but this time we have to do with a fully enabled GK110, with all its 15 SMXes active. In theory, this means a 25% more compute/geometry/texturing hardware than the GTX 780 or 7% more hardware than the GTX Titan.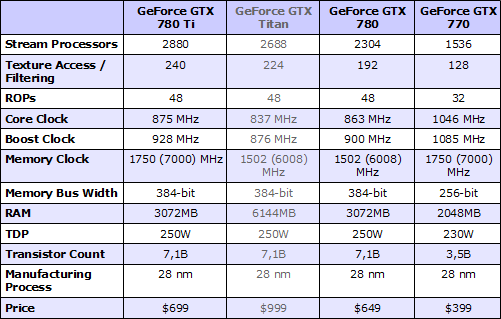 The GTX 780 Ti features the same 48 ROPs as the GTX Titan/780.
NVIDIA has also given GTX 780 Ti a minor GPU clockspeed bump at 875MHz core clock and 928MHz boost clock. The card also features 7GHz GDDR5 with a 336GB/sec of memory bandwidth. But unlike Titan, NVIDIA is sticking with 3GB for the default RAM amount on GTX 780 Ti, which is less even from the cheaper Radeon R9 290 series.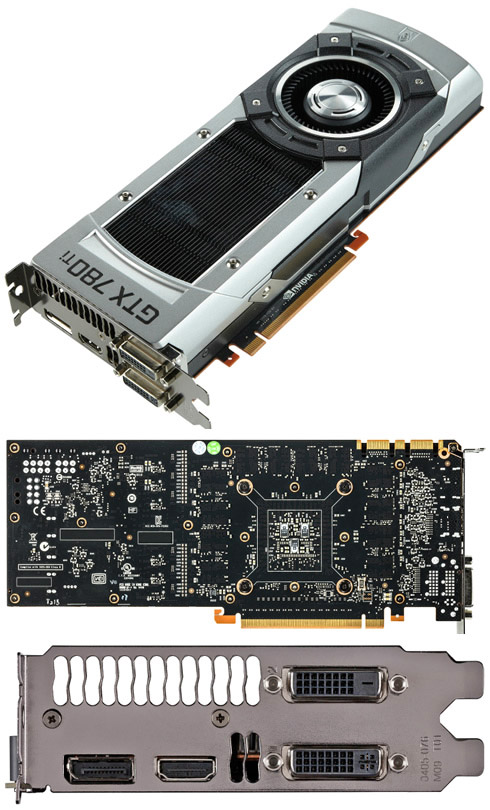 Officially GTX 780 Ti's TDP stands at 250W just like the other GK110 cards.
The GTX 780 Ti also includes dedicated frame metering hardware and it supports the new NVIDIA G-SYNC display technology, which eliminates screen tearing, and reduces display stutter and input lag. G-SYNC technology includes a G-SYNC module designed by NVIDIA and integrated into gaming monitors, as well as hardware and software incorporated into certain Kepler-based GPUs.
The GeForce GTX 780 Ti also supports NVIDIA's latest array of gaming technologies, including NVIDIA PhysX and TXAA.
Each GeForce GTX GPU also includes GeForce Experience software, which can automatically configure game settings to ensure the best overall experience, notifies gamers of software updates and automatically installs GeForce Game Ready drivers.
Built into the latest version of GeForce Experience, ShadowPlay is a gameplay-recording software that allows gamers to record video of their gaming moments and share them with the world.
Using the hardware encoder built into the Kepler architecture, ShadowPlay's impact on game frame rates is far lower than that of traditional recording applications, according to Nvidia.
The GTX 780 Ti will be priced as a flagship card rather than a competitive card, launching at $699, $300 less than GTX Titan. Current prices this will put it $150 over the R9 290X or $200 over the GTX 780.
NVIDIA will be also extending their "The Way It's Meant to Be Played Holiday Bundle with SHIELD" promotion to the GTX 780 Ti, which consists of Assassins' Creed IV, Batman: Arkham Origins, Splinter Cell: Blacklist, and a $100 SHIELD discount.
Custom cards will likely won't hit the shelves until December.
According to the first reviews that have surfaced online, the GeForce GTX 780 Ti seems to be the fastest single-GPU currently available, being 10-15% faster than Radeon R9 290X, 10% faster than GTX Titan, and a 20% faster than the GTX 780.
And if you have much to spend, a pair of GTX 780 Tis in SLI will handle any game no matter the resolution and the image-quality settings.