Samsung's mobile devices will feature house-made CPU core and displays with 560ppi in the near future. The word arrived during today's conference call, where the company's executive team spoke about what lies ahead.
The move of CPU core production in house will be a particularly important shift for Samsung, as currently, the company's chipsets feature CPU cores licensed from ARM. It will be accomplished in two-steps – Samsung will first develop 64-bit cores based on ARM designs and then move to its own.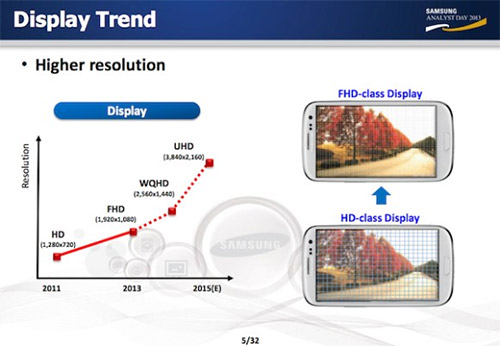 Mobile displays were another hot topic of conversation during the analyst event. Next year, Samsung will out RGB AMOLED displays with a pixel density of 560ppi. Combined with the targeted WQHD resolution (2,560 x 1,440 pixels), the aforementioned pixel density points at a display with a 5.25" diagonal coming our way (quite adequate for a Samsung Galaxy S5 we'd say).
Furthermore, Samsung will out mobile devices with 4K displays in 2015. With a resolution of 3,840 x 2,160 pixels, those screens will represent a huge leap compared to the 1080p units which are in fashion today.