Rumors about Samsung working on a large screen slate dubbed SM-P905 have recently popped around the web.
Now a leak posted on the AnTuTu Benchmark site offers a glimpse into what the gigantic tablet might bring in our lives. And by the looks of it, it's quite a lot, especially in terms of display as the 12.2-Inch screen appears to come with a 1600x2560 pixel resolution.
A quad-core 2.4GHz Snapdragon 800 chipset coupled with 3GB of RAM will apparently fuel the beast. As expected, two cameras will be provided (8MP on the back and 2MP on the front) with the bundle.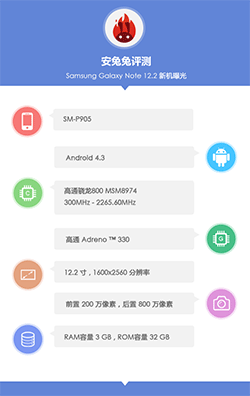 32 GB of onboard storage will be offered and Android 4.3 Jelly Bean will like be the preinstalled operating system.
Performance scores have also been posted along with the specs and the tablet has managed to gather 35,901 points. Considering the screen resolution, this is very impressive and surpasses even devices with smaller screens using the same CPU configuration (take the Galaxy Note 3, for example, which scores "only" 35,200 points).
Interestingly enough, the Galaxy Note 10.2 does however fall behind the 2014 version of the Galaxy Note 10.1 in a couple of tests. Check the gallery below for this comparison as well as individual test scores.
For now there's still no official launch date information.