AMD today unveiled the "Hawaii " Radeon R9 290X, R9 290, R9 280X, R9 270X, R7 260X and R7 250 graphics cards, AMD's first GPUs in a new era of gaming defined by UltraHD displays. AMD also introduced the world to Mantle and AMD TrueAudio technology, the company' step into hardware audio.
The R7 series is aimed at enthusiasts and gamers, while the R7 will be AMD's lower-end mainstream parts:
The flagship R9 290X model is AMD's highest-performing, single-GPU graphics card ever made. It is based on AMD's GNC architecture and supports DirectX 11.2, while it also offers improved energy efficiency. AMD did not provide the specifications of the card, rather than it has over 5TFlops of computing power, over 300 GB/s memory bandwidth, it processes more than 4 billion triangles/sec and packs more than 6 billion transistors. However, the card reportedly contains four independent tessellation units, close to 3,000 stream processors, and a 512-bit wide GDDR5 memory interface.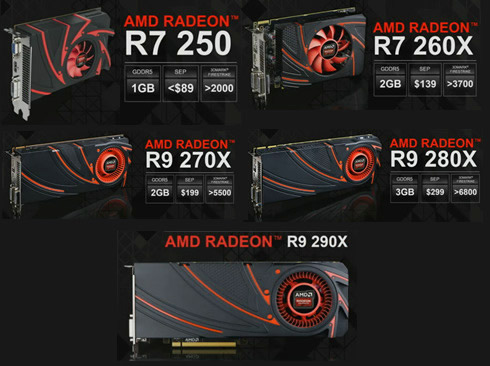 There will be also an exclusive pre-order program for the "AMD Radeon R9 290X Battlefield 4 Edition," which will be available starting from October 3rd.
The Graphics Core Next (GCN) architecture in the AMD Radeon R9 and R7 Series graphics cards continues to serve as a driving force behind the Unified Gaming Strategy, AMD's approach to providing a consistent gaming experience on the PC, in the living room or over the cloud -- all powered by AMD Radeon graphics found in AMD graphics cards and accelerated processing units (APUs). The four pillars of the Unified Gaming Strategy -- console, cloud, content and client -- come together with the introduction of Mantle.
Mantle is a low level high performance console style graphics API for PCs. Built by AMD, it's cross platform, but Windows initially. With Mantle, games like DICE's "Battlefield 4" will be empowered with the ability to speak the native language of the Graphics Core Next architecture, presenting a deeper level of hardware optimization no other graphics card manufacturer can match. Mantle also assists game developers in bringing games to life on multiple platforms by leveraging the commonalities between GCN-powered PCs and consoles for a simple game development process.
AMD will provide more details on Mantle at the AMD Developer Summit, APU13, taking place Nov. 11-13 in San Jose, Calif.
AMD also talked about the support it offers for 4K displays through the Catalyst drivers, which will support automatic configurations for popular displays. AMD has proposed a new VESA standard to implement inside 4K displays, which will automatically stitch 4K monitors. When displays that support this standard come out, they just work out of the box - no new software required. Panasonic Viera 4K TV supports this new standard, available for order now. Gamers more accustomed to AMD Eyefinity multi-display technology will be freed to use virtually any combination of display outputs when connecting matching monitors to the DVI or HDMI. outputs on their system.
AMD is also hoping that its True Audio Technology will change the way games are played. Bringing the audio back into hardware after many years, True Audio Technology is a fully programmable audio engine with programmable shaders. It is supported by the R9 290X, R9 290 and R7 260X models.
AMD TrueAudio technology empowers game developers with a programmable audio pipeline on the GPU, inviting them to put their artistic fingerprint on in-game audio in the same way that the programmable graphics pipeline brought unfettered artistic vision to PC graphics. Enabled games can feature more realistic environmental dynamics, richer sound effects, directional audio and more.
True Audio technology enables directional audio over any output and also enables you to hear 100s more voices and more channels in real time than what's possible with just CPUs today. Gamers who use stereo headsets over USB or audio jacks will enjoy virtual surround sound accelerated by AMD TrueAudio.
AMD TrueAudio technology enhances audio realism by simulating the human brain's perception of real-world sound, working in concert with the user's existing audio hardware. It will be supportded in upcoming games like "THIEF" by Square Enix or "Lichdom" by Xaviant Games.
AMD also highlighted its Forward+ feature for the Volcanic Islands family, which allows transparent materials and numerous hardware-acclerate light sources.
AMD also announced the Gaming Evolved app powered by Raptr, the company's answer to NVIDIA's GeForce Experience. As soon as you install the app, it detects all the games on your system/hardware/resolution. Along with expert testing of various CPUs, GPUs, and resolutions, The AMD Gaming Evolved App utilizes collaborative filtering from millions of PCs in Raptr's Cloud to determine the optimal settings for each configuration. The more the app is used while playing, the more data is collected and analyzed, and the better the recommendations become. On top of this, the AMD Gaming Evolved App Powered by Raptr features a reward system that lets gamers earn free stuff just for playing their favorite games and tons of in-game tools such as one-click Twitch live broadcasting, taking screenshots, web browsing, and chat so you'll never have to Alt-Tab out of your game again.
Using the app's live broadcasting functionality, gamers can instantly live broadcast hundreds of titles such as League of Legends, DOTA 2, Borderlands 2, and virutally any other game that has the Raptr in-game feature enabled by default.
The app also creates a histogram of your performance, takes all of that data as well as your system configuration and ships it off to the cloud. There's also a slider that lets you control the balance between performance and image quality.