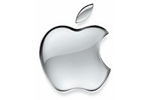 More details about Apple's custom A7 SoC have surfaced as Chipworks' ongoing analysis of the die in the Apple iPhone 5s continues. Following earlier revelations that the chip continues to be fabricated by Samsung on its 28nm High-K Metal Gate (HKMG) process, it has now been confirmed that Apple is using a quad-core PowerVR G6430 GPU by part-Apple-owned Imagination Technologies. Its appearance marks the first time that the vaunted next-generation PowerVR 6-series GPU cores have been utilized inside a shipping mobile device, marking yet another industry first for Apple.
Apple caused a stir when it announced that its new A7 SoC is the first smartphone to feature both a 64-bit architecture and a 64-bit mobile operating system. For all the talk that the iPhone 5s is iterative, it appears that Apple has taken it the device right to the edge of what was possible from a smartphone using currently available technology. Apple's unique position in the mobile market, coupled with its special ARM license that allows it to develop customized cores, in this case its new 'Cyclone' architecture, has meant that is at least 6 months ahead of when its leading competitor Samsung is able to push out a chip of its own with 64-bit architecture.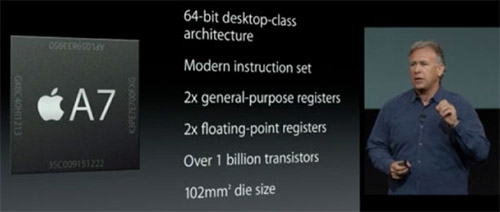 In an indication of how Apple was able to forge ahead of the competition with its bleeding edge A7, ARM itself only completed a tape out of the first working prototypes of its reference Cortex-A57 and Cortex-A53 designs in April. The first mass market ready shipments of the reference designs are not expected to roll off production lines until late 2013 and ready in sufficient volumes for devices being announced in March or April in 2014. Yet, Apple has already had production of its custom 'Cyclone' design based on the ARMv8 64-bit instruction set in a mass-market high-end smartphone is already on sale.
In addition to shipping the first smartphone with a 64-bit architecture, the quad-core PowerVR GPU in the iPhone 5s is the first mobile GPU to support OpenGL 3.0, while it also supports DirectX 10. Benchmarks recorded by Anandtech show that the A7 dual-core CPU outperforming the quad-core (and octa-core) chips widely used in its competition Android competition. Similarly, Anandtech found that the quad-core PowerVR GPU in the iPhone 5s is the first smartphone to crack 30fps in the GLBenchmark T-Rex HD at its native resolution.