BlackBerry has added another touchscreen-only device to its BlackBerry 10 OS range, as reported previously. The follows on from the BlackBerry Z10 in losing the physical keyboard, but with a larger 5-inch Super AMOLED display with a 1,280x720 resolution and a dual-core 1.7GHz Qualcomm Snapdragon S4 Pro with 2GB of RAM and an Adreno 320 GPU.
Using a larger 2,880mAh battery said to provide up to "25 hours of mixed use," the Z30 has stereo speakers that uses BlackBerry Natural Sound technology to improve BBM Voice and BBM Video chat audio, and a Paratek Antenna that can dynamically tune reception in low signal areas. It also has a middling 16GB of storage supplemented by microSD, a rear 8-megapixel camera with an f2.2 lens and front-facing 2-megapixel version capable of recording 1080p and 720p video respectively, dual-band Wi-Fi, Bluetooth 4.0, NFC, and 4G LTE support.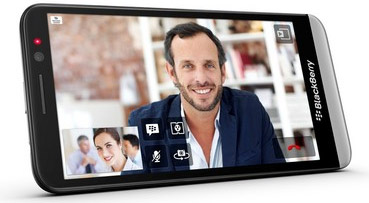 Also included on the Z30 is BlackBerry 10.2, the latest version of its mobile operating system. The BB Priority Hub is able to prioritize notifications and messages as they come in, while messages via BBM can now be viewed in any app via a new preview mode. The lock screen is also able to show previews of messages and notifications.
The Z30 is heading out to the UK and Middle East beginning next week, with other regions receiving it by the holiday season. Pricing was not disclosed, but will be left up to individual carriers.