Even though the Samsung Galaxy Gear smartwatch has yet to hit store shelves, rumors have already surfaced of a sequel that could be revealed as soon as CES 2014, reports The Korea Times. The Galaxy Gear 2 is expected to be a more refined iteration of the original device which was apparently rushed to market on the back of Apple iWatch speculation and to gauge public interest in smartwatches. The updated device is also expected to add an on board GPS module, adding to the Galaxy Gear's already feature filled specifications.
The Galaxy Gear announced at IFA centers on a 3-inch curved AMOLED display, offering users a wide range of watch faces. Its CPU is clocked at 800MHz, while it also incorporates a 1.9-megapixel camera in its wristband. Other tricks include the ability to automatically lock a connected smartphone or tablet as soon as the user moves 3-feet away with the wristwatch on. Users can also use the Galaxy Gear for viewing incoming emails, texts, calls and other notifications. It is expected to go on sale from September 26.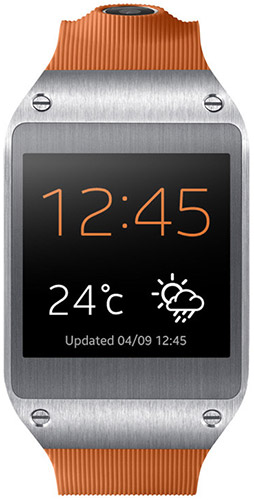 Moving from the realm of rumor to actual product launches, Samsung has released a new purple color variant of its oversize Galaxy Mega 6.3. The new color joins the original white and black colors of the 6.3-inch 720p device. All other specifications remain the same with the Mega continuing to be powered by a dual-core Snapdragon processor clocked at 1.7GHz matched with 1.5GB of RAM. The Galaxy Mega 6.3 is also available in either an 8GB or 16GB model, both with the option for microSD card expansion.