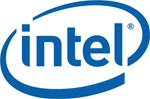 Intel has revealed a trio of system-on-chip(SoC) processor families, aimed for use in tablets, smartphones, and notebook computers. The new SoCs, based on the 22nm Bay Trail Atom designs and the Silvermont architecture, all of which offer improved performance while also preserving battery life, something that should make it more attractive for manufacturers of mobile devices.
The headlining chip, the multi-core Atom Z3000 series also known as Bay Trail-T, is Intel's attempt at competing against ARM-based chips. The dual and quad-core SoCs are said to double the compute performance and triple the graphics performance when compared to the previous generation of Intel Atom processor. Able to use Intel's Burst Technology 2.0 with four cores, four threads, and 2MB of L2 cache, the Atom Z3000 will work with both Android and Windows 8, and offers a number of security features for businesses, such as McAfee DeepSAFE, AES hardware full disk encryption, and support for Microsoft Windows 8 Pro Domain Join and Group Policy. Intel expects that tablets using this processor will start from $200 when they get released.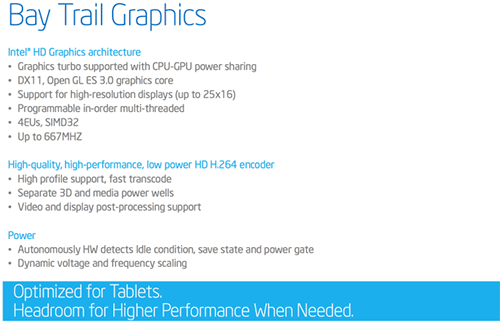 Bay Trail-M and Bay Trail-D were also brought up, effectively extending the Pentium and Celeron lines. Bay Trail-M, aimed towards 2-in-1 devices and touch-enabled notebooks, also boast triple the performance in apps and graphics compared to "three-year-old Intel-based value notebooks." Able to be run fanless, measure less than 11mm thick and weigh as little as 2.2 pounds, Intel believes that systems equipped with Bay Trail-T could start from $200 for a clamshell device, $250 for a touch-enabled notebook, and $350 for a two-in-one device.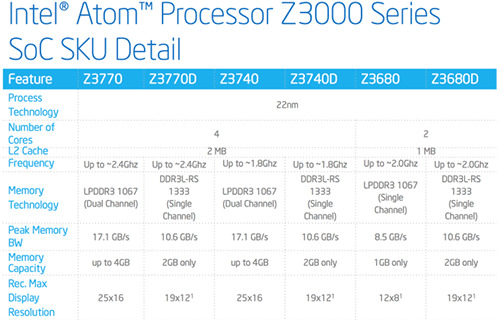 Bay Trail-D are Intel's smallest packages for desktop processors, also aimed at fanless computing, as well as in smaller devices for entry level desktop computing and intelligent digital displays. Again said to have triple the performance, up to 10 times better graphics, and lower power requirements compared to three years ago, Intel believes that full systems based on these processors could go on the market at $200.