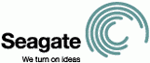 A breakthrough technology by Seagate claims to be able to exceed the current 1TB per platter mechanical limit, hit at the end of last year. The technology, known as "Shingled Magnetic Recording" (SMR) is expected to boost drive data densities by the beginning of 2014 from the current 1TB maximum to 1.25TB per platter and possibly more, if the technology improves.
A drive's mechanical components consist of a read/write head, and the data-retaining spinning platters. Recently, data density on each platter has been limited to the size of the write head's "shadow" on the drive platter, plus a protective track to prevent the head from either writing erroneous data, or reading out-of-place data for a request.
The new Seagate technology reduces the protective space on the platter and allows for some overlap (like roofing shingles, hence the name). By allowing tracks to overlap, data density can increase without further shrinking the size of the heads, which are said to be at the smallest size physically possible now.
Anand Lal Shimpi of Anandtech discusses some potential benefits and pitfalls to the new technology. Shimpi writes that "the obvious downside of SMR is actually very NAND flash-like. When writing data sequentially to an empty platter, SMR is full of advantages. When you're writing to a series of tracks that already contains data, the SMR writing process is actually destructive. Since the writer remains full width and tracks now overlap, overwriting one track will actually harm the next track; those subsequent tracks will need to be overwritten as a result."
When a series of tracks already contains data, overwriting new data will impact the overlapping track, which will have to be moved by the drive. This happens transparently to the user, at the firmware level of the drive at the cost of some read/write speed.
Seagate claims to have already shipped one million SMR drives, so the technology has been in use in enterprise and elsewhere for some time, apparently. While the company has not used the technology to increase density yet, the company is planning on increasing the per-platter size to 1.25TB in 2014 in part due to the new technology. It is unknown which current Seagate drives use the SMR technology, or what effect the technology has on drive longevity.