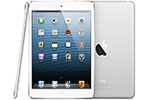 Apple has been testing an iPad mini upgraded to an A6 processor, but lacking a Retina display, code in the latest iOS 7 beta suggests. Three new Mini models are included in the list of supported devices: "iPad 2,8," "iPad 2,9," and "iPad 2,10," with respective codenames of J75, J76, and J77. The current Minis are the 2,5, 2,6, and 2,7, split between one Wi-Fi and two 3G/4G models.
The processor associated with the new tablets is the "s5l8950x" -- the A6 found in the iPhone 5 -- which would nevertheless be faster than the A5 found in first-gen Minis. The missing Retina support is inferred partly by the lack of hooks for "@2x" images, which are present for other devices like the iPhone 5 and fourth-generation iPad. 9to5Mac adds that a previously-rumored codename for a Retina Mini is the J85.
Despite the beta references, it may actually be unlikely that Apple will ship a second-gen Mini without Retina technology. Recent rumors have put one back in 2013; more significantly, a non-Retina Mini would have to compete against the second-gen Nexus 7, which has a 1080p display with more pixels per inch than even the fourth-gen iPad.