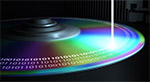 While cloud storage is all the rage nowadays, there is still demand for a reliable physical back-up medium. True, consumers already have access to CD, DVD and Blu-Ray writable discs, but they simply do not offer enough storage space -- low cost, high megapixel cameras and HD video cameras have contributed to an increase in file sizes.
While some may point to low-cost hard disk drives and flash drives, they are simply not reliable enough to store life's precious memories. Also, in addition to personal use, there are professional needs for archiving large amounts of data for business. Today, Sony and Panasonic announce that they are teaming-up to meet the demands of home-users and businesses with a 300GB optical disc.
According to the companies, their goal is to "...improve their development efficiency based on the technologies held by each respective company, and will target the development of an optical disc with recording capacity of at least 300GB by the end of 2015. Going forward, Sony and Panasonic will continue to hold discussions regarding the specifications and other items relating to the development of this new standard". In other words, if this project does come to fruition with a retail product, it won't be until the end of 2015 at the earliest.
Sony and Panasonic working together on an optical format is not unprecedented; they are both founding members of the Blu-ray Disc Association (the group that developed that medium). According to the companies, "...Sony and Panasonic have a proven track record in developing Blu-ray Disc format technologies, and by actively promoting the adoption of a new standard for next-generation high-capacity optical discs, they intend to offer solutions that preserve valuable data for future generations".
While this is a promising new technology, which does fill a need, its end-of-2015 goal makes it potential vaporware. Many laptops in 2013 do not have optical drives at all and the current trend of thin laptops means there will be no way to physically accommodate this in future machines. This means an external add-on drive must likely be utilized for most consumers -- a potential deal breaker.