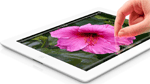 A report from Taiwan citing supply chain sources reveals that Apple is postponing the launch of its Retina-enabled iPad mini, but is poised to unveil a fifth-generation full-size version of the tablet this year.
For its rumored fall event for 2013, Apple is said to have prepared a fifth-generation 9.7-inch iPad with thin-film touchscreen technology, "which will be able to reduce the weight of the device by 20-30%," according to DigiTimes.
Citing people with alleged knowledge on the matter, the trade publication notes that Apple's iPad 5 "will also feature a slimmer bezel design to allow a bigger viewing area."
iPad 5 will enter mass production in "small amounts" this month, "followed by volume shipments of 2-3 million units in August and September," the sources said, adding that "as of October, shipments of the device are expected to increase another 25-30%."
In other words, Apple seems more determined to launch a redesigned full-size iPad this year, leaving the iPad mini Retina refresh for 2014.
It certainly makes sense, considering that the latest new iPad introduced by Apple is the iPad mini. The company needs to alternate its product refreshes if it wants customers to remain interested in all its offerings.
The iPad 5 is said to adopt a design that is similar (if not identical) to the iPad mini, sporting a thinner bezel on the sides, and an overall thinner and lighter chassis.
And if the company's latest developments on the notebook front are any indication, the upcoming iPads from Apple might be capable of offering even more than 10 hours of battery life, which is already an industry benchmark.
At its fall event, Apple will also introduce a new version of the iPhone. According to the latest rumors, a "budget" version of the handset is also in the cards for this year.