The Nokia EOS, last suggested to be the Lumia 1020, is now rumored to be titled the Lumia 909, and is said to cost around $600 unlocked. The change in name of the smartphone with the 41-megapixel camera comes after the evleaks Twitter account discovered new details about the long-awaited mobile device, with the second name now matching the three-number suffix the Lumia range typically uses.
Sources of WPCentral sent an image claimed to be from the Microsoft Store, that shows a unit price of $602 for the smartphone. Still labeled as the Lumia 1020 on AT&T in the screenshot, it appears that the store in question would receive more stock of the black and yellow editions of the device, with slightly fewer of the white version. It also shows a date of 7/22/2013, which the source claims is the date that it expects to receive the stock shipment, with it being made available for sale a few days later. This would place the Lumia 909 as possibly going on sale within two weeks of the upcoming launch event.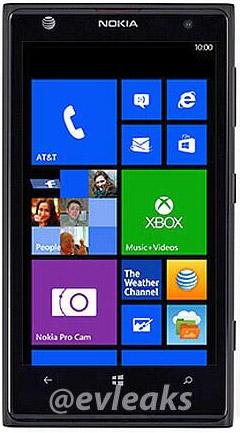 Yesterday, an image of the Lumia 909 was leaked, showing a new camera app as well as AT&T branding. The Lumia 909 is also rumored to have a 4.5-inch 720p OLED display, a Qualcomm Snapdragon 800 processor, a Xenon flash, 32GB of storage, a 2,000mAh battery, and the capability to use wireless charging stations.