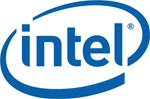 Intel will eventually focus more on the development of chips for mobile devices rather than its traditional business in personal computers, the company's new CEO said Friday.
Brian Krzanich, also said that Intel will be cautious towards entering the content and TV buisiness. Under previous CEO Paul Otellini, Intel had a plan to launch an Internet television service with live and on-demand content.
Krzanich said computing in the next few years would focus more on items for eyes and ears, as well as wristbands and watches.
Under the leadership of the new CEO, Intel will give priority to its Atom mobile chips, with the company currently evaluating its roadmaps and the timing of some of new products.
Intel also plans to grow its contract chip manufacturing business, by possibly opening its factories even to customers making chips designed with architectures that compete against Intel's own. Recent reports indicate that Intel could strike a deal to manufacture Apple's iPhone chips.
Processors based on technology from ARM and designed by Qualcomm, Samsung and Nvidia account for most of the mobile market. However, Samsung has recently chosen an Intel processor for one of its top-tier Android tablets for the first time.
Intel hopes that its new Silvermont mobile chips could beat ARM-based processors in terms of performance per watt.