Sony today introduced the Xperia Z Ultra, a premium large-screen Android smartphone with an 6.4-inch full HD display. The company also released the SmartWatch 2 SW2, which helps you keep track of everything without taking your smartphone out of your pocket.
The Xperia Z Ultra is the first smartphone to incorporate a 6.4" touchscreen Full HD display Full HD TRILUMINOS Display powered by Sony's latest X-Reality for mobile picture engine. Additionally, the Xperia Z Ultra will also feature the fully integrated Qualcomm Snapdragon 800 processor with 2.2 GHz quad-core CPUs, 4GLTE and HD voice.
X-Reality for mobile is Sony's intelligent super resolution display technology which analyzes each image and reproduces lacking pixels to optimize quality. It analyses elements depending on the scene and adjusts them based on pattern, outline and colour composition. It also strengthens subtle patterns and portrays their detailed feel, as well as reinforcing bold outlines.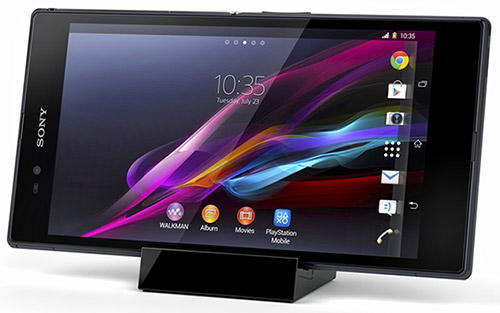 The Xperia Z Ultra is slim and lightweight with a 6.5mm body and weighing just 212 grams. The front and back are made of tempered glass, creating a seamless surface with the OptiContrast panel housed in a solid metal frame. It features the same OmniBalance design as Xperia Z and Tablet Z. The Xperia Z Ultra is available in a choice of black, white or purple colour finishes.
With a rating of IP55 and IP58, this smartphone isn't only resistant to dust, but is waterproof too. The camera features "Exmor RS for mobile", HDR for both photos and film, and Superior Auto mode automatically activates HDR and noise reduction when needed.
Sony's "WALKMAN", Album and Movies media applications enable discovery of online and offline content through a single access point with new ways to enjoy and share that content.
The "WALKMAN" application leverages Sony's audio engine and Facebook integration for sharing and discovering new music and provides integrated access to all your downloaded music as well as access to a global library of over 20 million songs from Sony's cloud-based subscription music service, Music Unlimited.
The Movies application brings new ways to discover, manage and play movie content, together with easy access to a library of blockbuster movies and the latest TV episodes from the Video Unlimited service.
The Album application provides integration with the PlayMemories Onlineservice, letting you access all your photos and albums from within the Album app, wherever you are. You can even set an automatic upload of your photos to the PlayMemories Online service to access and enjoy from any your favourite Sony devices.
The Sony Reader app provides Reader store access so you can download the latest bestsellers - it even lets you sync purchased books in popular formats and continue reading from same page.
Xperia Z Ultra will include an exclusive free entertainment content offer, including a free trial of the Music Unlimited service (subject to availability).
The screen with handwriting recognition is compatible with any pencil and selected stylus or pen (capacitive stylus or metal pen with tip diameter over 1mm). You can even write notes or sketches during calls. The keyboard allowa for one-handed input and multi-tasking.
The security architecture safeguards both your corporate and personal data, with support for multiple accounts. Further business oriented applications will be made available in future as software updates.
With one-touch functions you can share music, photos and videos from your smartphone to a wide range of NFC-enabled Sony devices, including speakers, SmartWatch, wireless headsets and TVs.
The SBH52 is a dynamic Smart Bluetooth Handset that provides hands-free call handling with a single press, while leaving your smartphone in your bag. The OLED display lets you browse your call log, view text messages, and see who's calling you. You can use it as a stereo music headset to listen to your tracks or to the built-in standalone FM radio with RDS. Pairing and connecting is done simply by touching it to your Xperia Z Ultra or other NFC-enabled device.
The latest generation of SmartWatch, the SmartWatch 2 SW2, helps you keep track of everything without taking your smartphone out of your pocket or bag. The SmartWatch 2 is a multifunctional digital watch and phone remote that lets you receive notifications, control your music, and connect with one-touch NFC to your Bluetooth headset for easy call handling. The water-resistant design makes it more versatile to use than ever and can be personalised with any standard watch strap. Use it as a standalone watch or with your smartphone. There are over 200 apps available for Sony's first generation and with an open API Sony hopes that new applications will be developed for SmartWatch 2.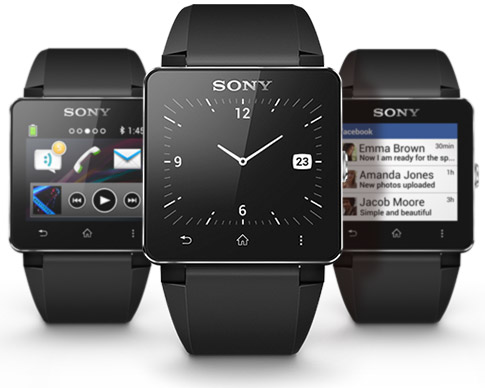 The SmartWatch 2 comes with a 1.6-in., 220 x 176 pixel color LCD display with touch and swipe capabilities. It is easy to read in sunlight and battery time is three to four days with typical use, Sony said. The Android version for the SmartWatch is listed by Sony as "4.0 and later."
The SmartWatch 2 SW2 is expected to be available worldwide in September.
The Magnetic Charging Dock DK30 has a magnetic pin that lets you place your Xperia Z Ultra in the dock using one hand, either with or without the phone cover on. While your phone is charging, it stands at a comfortable viewing angle allowing you to keep watching your favourite movies even while charging.
The Xperia Z Ultra will launch globally from Q3 2013.