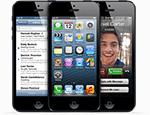 Apple's next-generation flagship iPhone -- commonly identified as the iPhone 5S -- does appear to use an A7 processor, new photos suggest. The chip has an APL0698 model number, rather than the APL0598 for the A6, or the APL5598 for the A6X. Also of note is a "K1A0062" identifier, which may back reports that Apple has dropped Samsung as a chipmaker in favor of TSMC. Earlier A-series chips have "N" identifiers that refer to Samsung part numbers.
The new processor has a "1243" stamp, dating it back to October 2012. The 1GB of Elpida DRAM meanwhile has a 1239 date code, pointing to September. MacRumors claims that the phone the parts come from was assembled in December, which would mark it as a very early prototype. The processor in fact has an Apple logo, but no "A7" written next to it like a final product would have. Similarly branding the hardware as a prototype are placeholder "1234" model and regulatory identifiers on the back.
The rear of the phone contains a dual-LED flash, something mentioned in other reports but seen clearly here. Using twin lights should allow Apple to substantially improve the output of the flash over that seen in the single-LED iPhone 5.