Some of Microsoft's Surface tablets will reportedly get an upgrade with Qualcomm chips for faster wireless connections.
Microsoft's current Surface RT tablets have a quad-core NVIDIA Tegra 3 CPU, and while NVIDIA chips will continue to be used in certain future Surface tablets, many upgraded Surface RT models are expected to receive Qualcomm's Snapdragon processors.
According to The Verge, Microsoft is currently testing Windows RT 8.1 Surface tablets with Qualcomm's Snapdragon 800 processor. With Qualcomm chips, the Surface can provide quicker wireless data connections. Many are hoping for integrated LTE support.
Surface RT could certainly use some love, considering it's had a rough start since its October 2012 release. The device has adopted the reputation of being a half-baked version of the Surface Pro, which features the full Windows 8 operating system (instead of the limited Windows RT) and an Intel Core i5 processor.
Surface sales missed analyst expectations when Bloomberg reported that Microsoft had only sold a little over a million Surface with Windows RT tablets and about 400,000 Surface with Windows Pro tablets back in March. Brent Thill, an analyst at UBS AG, had previously predicted that Microsoft would sell 2 million Surface RT tablets in just the December 2012 quarter.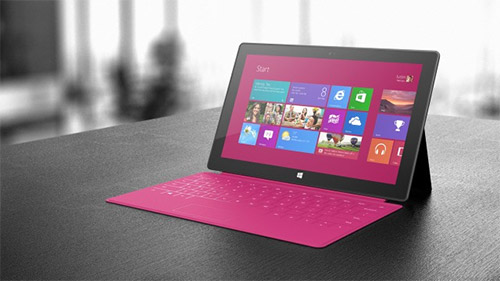 Hardware makers haven't seen a whole lot of success with RT. Back in April, many computer companies started slashing the prices of their RT-based tablets in hopes of clearing their stock. For instance, at that time, Dell's 32GB XPS 10 tablet with Windows RT launched at $500 last fall and dropped to $450. The XPS 10 was slashed again in May to a starting price of $299.99. ASUS' VivoTab RT was another device to take a cut ($599 at launch, cut to $382 for 32GB on Amazon while Newegg listed it as "discontinued").
Hewlett-Packard (HP) said it currently doesn't have any plans for an RT device. Acer called Windows RT "immature," and said that it is focusing on Windows 8 Pro and Android-based tablets instead. Samsung said it hasn't decided whether it should make a successor to its RT tablet.
Last week, Microsoft announced that it was giving away 10,000 Surface RT tablets to teachers at the International Society for Technology in Education (ISTE). The idea was to spread RT adoption in schools by supplying teachers with the devices and even training them how to use it.
Microsoft is also expected to announce its "Microsoft Surface for education limited time offer" this month, which will offer discounted Surface RTs to schools and colleges interested in adopting the tablets.
The offer, which will reportedly run until August 31, 2013, will sell Surface RTs (without keyboards) to schools for only $199. The Surface RT retails for $499. If the schools want a touch keyboard with their Surface RT, the total price is $249 (retail $599). With a type keyboard, the cost is $289 (retail $629).