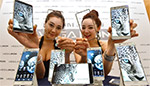 2013 proved to be the year of full HD smartphones, with various handset vendors embracing the technology and bringing to shelves 1080p handsets at all price points, but it seems that things will move one step further next year.
Smartphone panel makers are working hard on bringing WQXGA (2560 x 1600 pixels) smartphone screens to shelves, and the first devices to include them should be launched in 2014, it seems.
According to a recent article on etnews, mobile phones with 6-inch panels capable of said resolution and a 500 pixels per inch (ppi) density will become reality next year, and will be capable of greatly enhancing the experience that users receive while on the go.
No vendor has confirmed plans to launch such a smartphone for the time being, but details could start pouring in soon, should the report pan out.