The next Xbox was a lightning rod of controversy between rumors and the official announcement (and even that came without key details). Today's E3 keynote address fills in the information we were waiting for. Microsoft took the stage at the world's gaming mecca to deliver important information such as pricing and availability, as well as the all-important games stuff.
The console maker refers to its new lineup of games as "blockbuster", though that is for consumers to decide. Unveiled games include Ryse: Son of Rome, Forza Motorsport 5, Dead Rising 3, Project Spark, Sunset Overdrive and Titanfall. The biggest related news, however, is the unveiling of "Halo Xbox One", the next chapter of the gaming franchise developed by 343 Industries, which launches in 2014.
Bigger than games is the pricing announcement. Every Xbox One bundle will include the new Xbox One console -- which features a 500GB hard drive, Blu-ray player and built-in Wi-Fi -- the new Kinect, one Xbox One Wireless Controller and a free 14-day trial of Xbox Live Gold for new members. The bundle will go for $499.99 in the US, £429 (GBP) in the UK and €499 (EUR) in European markets. Not cheap, but also not unexpected.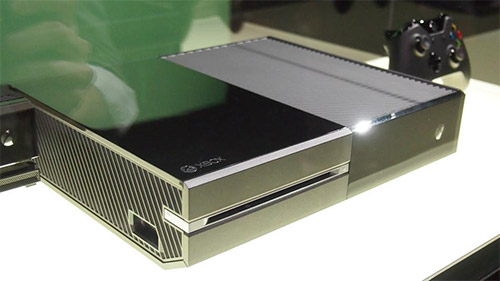 There will also be a limited-edition commemorative version available which includes an Xbox One bundle that comes in premium black packaging with a limited edition Xbox One 'Day One' wireless controller and a unique commemorative 'Day One' Achievement. Pricing for this trim is exactly the same as mentioned above, but customers must reserve early to secure one.
"Showcasing a stunning lineup of titles designed to kick-start a new era of games and entertainment, Xbox showed why it will be the premier platform for the future of games when Xbox One launches in 21 markets this November" the company announces. While no exact date is given, Microsoft will certainly need to have it in retail outlets in time for Black Friday shoppers.
Will You Buy?
Xbox One has been controversial since before launch, with rumors swirling around the "always-on" concept. Much of this has been dismissed since those days. With that said, I still hear grumbling that the console resembles a "Beta-Max" or "VCR". Even if Microsoft announced it were gold-plated and selling for $99 some consumers would find a reason to be dissatisfied.
The price is certainly high, and that is a legitimate reason to turn off some prospective buyers, however the offered gaming and entertainment options seem appropriate to make up the difference for those with a wallet that can take a beating.
I find the new design much more palatable, given that it needs to fit into an entertainment cabinet. The options too, are worthy of making it the center of a living room. The question is, what do all of you think?