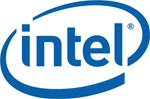 Intel fourth generation of Core i-Series processors is upon us.
Meet Haswell
At the 2013 Computex trade show in Taipei, Taiwan, Intel announced the availability of its latest personal computer CPUs, powered by the new 22 nanometer Haswell core design, an architecture redesigned from last generation's 22 nm Ivy Bridge.
Note, the models in Intel's tables show only the processors model geared towards mobile and pre-packaged desktop processors (denoted by the 'HQ', 'R', 'Y', and 'U' lettering), which are ball grid array (BGA) designs soldered by OEMs onto their circuit boards.
Newegg.com currently lists a variety of socket-style desktop Haswell i5- and i7-Series chips ranging from the 3.0 GHz quad-core i5-4430 ($189.99 USD) up to the 3.5 GHz quad-core i7-4770K ($349.99 USD). These chips either have no letter, an 'S', or a 'K', with the letter indicating clock speed ('K' being the highest/most-expensive and 'S' the lowest/least-expensive).
The story on the side of the integrated on-die GPU is a tail of two chips. Mid-range desktop models like the i7-4770K ($349.99 USD) pack a HD 4600 GPU. While more or less living up to Intel's claims of a 50 percent bump in frame rates over the previous generation (HD 4000), Intel's performance is still pretty abysmal compared to AMD.
For example, the AMD A10-5800K ($129.99) ties or beats the HD 4600 in most game benchmarks by AnandTech. In some cases the win appears to be enough to make a game that would be unplayable on the Intel chip playable on the AMD chip.
Is it amazing to see AMD's Fusion processors compete against a chip that is nearly three times as expensive and manage a modest win? It is pretty astounding and a testament to AMD's targeted strategy -- building gaming-ready systems on a budget.
Of course the Intel chip destroys its rival in CPU performance, but that's to be expected when you're paying approximately 2.7 times as much.
On the other hand, the Iris Pro (the HD 5200) -- the integrated GPU found in pricier Haswell SKUs -- is a completely different story. Not only does it blow away its Fusion foe, it trades blows with an NVIDIA GeForce GT 640, a discrete graphic card that retails for around $79.99 USD. The key to that performance is a 128MB L4 cache, dubbed "Crystalwell".
So what's the price and why aren't we finding this mean performer on Newegg?
The bad news is that high-end desktop parts don't get Crystalwell -- you'll only see it (and Iris Pro) in ball grid array (BGA) designs from OEMs, which are soldered to the motherboard of high end laptops and mid-range desktops. Thus the price premium to get Iris Pro and Crystalwell is unknown.
Also up in the air is how the situation will look when Iris (HD 5100) -- the little brother of Iris Pro -- lands. Intel's first batch of processors did not include any chips with the mid-range Iris.
Thus the situation is that CPU-wise Intel remains the king of single and multi-threaded performance, albeit with pricey chips. But in terms of gaming or performing other graphics heavy functions without a GPU, Intel's pricey chips fall flat -- except the Iris Pro. But Iris Pro and its Crystalwell are only going to be found in a few desktops, plus a smattering of gaming laptops and pricey ultrabooks.
Thus we're left with a release in which Intel makes good on nearly all its promises and shows some great performance, but leaves something to be desired in terms of selection and flexibility for system builders.
Perhaps follow-up releases will fill in those gaps, but for now builders of budget (GPU-less) desktop systems must either sacrifice the ability to upgrade their CPU for better performance at a higher price (going the Intel route), or pay less and retain upgradability albeit at lower performance (going the AMD Fusion route). As budget gaming is today one of the biggest PC markets, it should be interesting how the sales play out.
Mobile
The final piece of the story is the mobile side.
Intel is boasting that its latest chips allow "9 hour" battery life via designs reaching as low as 7 watts (most of the i3-Series chips announced have 15 watt TDP). As previously discussed, standby battery life is expected to receive an even bigger boost.
The chipmaker's Executive Vice President Tom Kilroy boasted of "more than 50 different 2-in-1" (ultrabook-cum-tablet) design wins. But Intel's flagship tablet architecture -- the Intel Atom line -- won't receive its update until later this year.
The company is facing strong resistance from entrenched ARM chipmakers like NVIDIA and Qualcomm. It will likely have to prove that its x86 Silvermont designs can not only beat these rivals' ARM-powered designs on computing performance, but also price and power performance.
Intel will look to add value by pairing its next-generation Atoms with its multi-mode LTE die, the Intel XMM 7160, in is holiday partner products. That chip should see more traction in upcoming smartphone product, however 22 nm smartphone Atom chips are not expected to trickle out until early 2014.