Much like fellow Taiwanese electronics firm HTC transition around 2006-2008 from designing and manufacturing other companies products, Hon Hai Precision Industry is looking to try its hand at its own tablet and smartphone designs. Hon Hai owns Foxconn, a massive Chinese manufacturer who is involved in the assembly of PC and game console assembly for various OEMs, plus the manufacture of Apple mobile devices.
For its own efforts, some of which are rebranded and sold to other OEMs, Foxconn has traditionally used Google Android operating system. However, licensing pressure from Microsoft has made the Android route less appealing.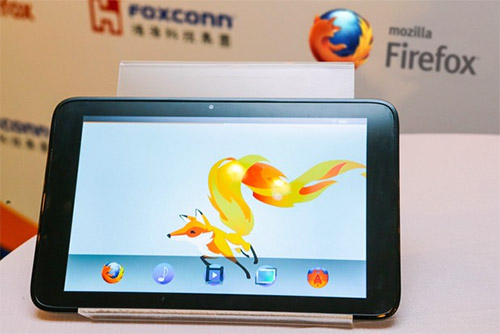 Thus it's perhaps unsurprising to hear that Foxconn this week signed an exploratory contract with The Mozilla Foundation to produce a line of tablets and smartphones running on Firefox OS. Foxconn is the 19th company to sign up with the growing Firefox OS alliance. LG, Huawei, and ZTE -- the second, third, and fourth place Android manufacturers currently -- are among the other top companies looking to test the Firefox OS waters.
Firefox OS, like Android, uses a Linux kernel (dubbed "Gonk") with a mobile friendly (touch-driven) "Gaia" user interface (UI).
At a press event at the 2013 Computex show in Taipei, Taiwan Mozilla and Hon Hai's Foxconn showed off the first Firefox OS tablet prototype spotted in the wild. They also announced plans for several smartphone devices to launch this year or early next year.
Like LG, Huawei, and ZTE, much of Foxconn's devices will likely be focused on developing markets, such as China, Brazil, or Mexico. The first devices are expected to land later this summer.