A new report has Nokia close to releasing both a tablet and a new smartphone with a powerful sensor, with both of those devices in testing at AT&T. Nokiapoweruser on Saturday carried the report that the United States' second-largest carrier is in the process of trying out new devices from Nokia. The tablet and EOS smartphone could see release as early as this summer.
The EOS smartphone is thought to pack a 41MP camera, though one with improvements over the sensor found in the company's ill-fated 808 PureView. Its would run Windows Phone 8, as do Nokia's other smartphones, and its chassis would be thinner than the Lumia 920, but with a rounded hump in its polycarbonate frame.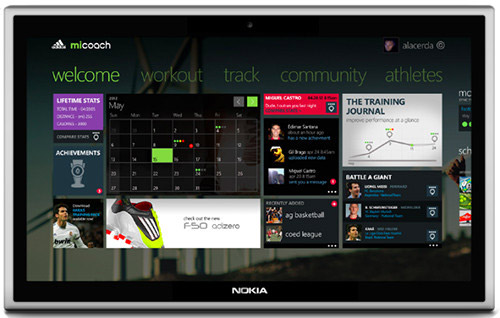 The EOS, also known as the Lumia 950, may have stereo recording capabilities via HAAC mics, as well.
The tablet, now known only as the Nokia Tablet, has reportedly shown up in images on the Internet. Less is known about the features of the Nokia tablet, though its design aesthetic seems to be in keeping with that of Nokia's Lumia line. It has been pictured running an Adidas app with the design cues of Microsoft's Windows 8 operating system.
The two devices are said to be in testing at AT&T currently. They could launch on that carrier and around the world as early as this summer.