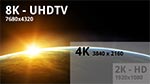 Japan Broadcasting Corporation (NHK) will be showacasing its latest developments related to the Super Hi-Vision video format (8K), including video shooting equipment and tranmission technologies, at its NHK Science and Technical Research Laboratories in in Tokyo.
The two-day event starts in May 30 and includes demonstrations of hardware related to SHV, lectures and presentations.
Super Hi-Vision TV has 33 megapixels (7,680 x 4,320 pixels) or 16 times the resolution of HDTV. NHK plans to start testing broadcasts of SHV content in 2016 (SHV).
To capture clearly the fast-moving subjects in the SHV format, researchers from NHK and the Shizuoka University have developed a full-specification Super Hi-Vision (8K) image sensor with a frame rate of 120 fps, based on the international standard for UHDTV systems (Progressive scan, wide-gamut RGB with an effective pixel count of 7680 x 4320, a maximum frame rate of 120 fps, and either 10-bit or 12-bit depth). NHK says that by increasing the frame rate the power consumption was also increased, but they managed to limit the power consumption to 2.5W (60% of the previous device) by developing a new A/D conversion circuitry.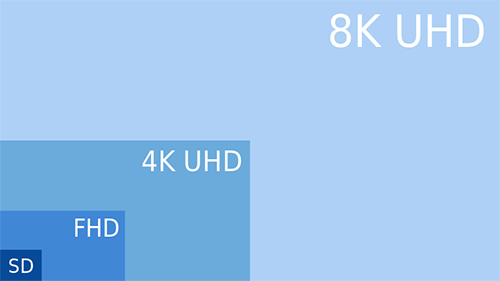 On stage there will be presented a 3-CMOS color camera prototype along with a display system that has 120 fps and 8K resolution. The 3-CMOS color system has three image sensors in the camera head, and it outputs data at 144 Gbps. The display device uses four 46-inch 120Hz/4K panels placed side by side in order to display Super Hi-Vision (8K) at 120 fps.
In the future, NHK plans to develop an image sensor with a sensitivity as high as that of currently available HDTV broadcasting cameras.
STRL has been also researching video coding technology towards Super Hi-Vision (SHV) broadcasting that can efficiently compress huge capacity video data while retaining high image quality. STRL has also engaged in international standardization activities surrounding the new video coding scheme called HEVC (High Efficiency Video Coding) / H.265. HEVC achieves approximately twice the compression performance of the existing AVC/H.264, scheme and supports the SHV video format. STRL has developed the world's first SHV real-time encoding equipment incorporated with HEVC (up to 340Mbps).
The Science and Technical Research Laboratories (STRL) will offer an overview of a HEVC video coding scheme, its standardization process, and the recently-developed SHV real-time encoding equipment. By adapting elemental technologies, such as partitioning the area by the quad-tree and extensions of the coding, prediction and transform block sizes, HEVC is able to encode the high-resolution SHV video with high compression performance.
The SHV HEVC encoding equipment is capable of real-time processing with high image quality and high efficiency by spatially partitioning the SHV video signal (17 encoders process 256 ? 7,680 pixel horizontal frames) and processing each partition in parallel.
SHV will be mainly transmitted through the 12GHz satellite band using the ARIB STD-B44 transmission systems. The signal will be modulated using the 16APSK (3/4) scheme and will be transmitted in a single channel SHV satellite repeater. The stronger 8PSK modulation could be also used in order to make the signal more resistant attenuations due to weather conditions.
NHK has been also researching into terrestrial broadcasting of Super Hi-Vision. They have come up with a large-capacity transmission technology for transmitting a Super Hi-Vision program over a single channel (6 MHz bandwidth), and a technology that improve the transmission characteristics in a single frequency network (SFN) by applying space time coding (STC) between the transmission signals of adjacent transmitter sites.
To transmit a Super Hi-Vision program over a single terrestrial TV channel (6 MHz), NHK used Low Density Parity Check (LDPC) code for error correction and an experimental dual-polarized Multiple-Input Multiple-Output (MIMO) setup, "ultra multi-level" Orthogonal Frequency Division Multiplexing (OFDM) transmission equipment with a 32k-point Fast Fourier Transform (FFT).
In a conventional terrestrial digital broadcasting system, the Single Frequency Network (SFN) covers the service area with multiple transmitting sites operate at the same frequency, in order to to make efficient use of the frequency resources. To improve the transmission characteristics in comparison with the conventional SFN sheme, NHK's researchers are conducting transmission tests using a new SFN scheme to applying in which Space Time Coding (STC) is applied to the transmission signals of adjacent transmitters. STC is a method of encoding information temporally and spatially, then distributing the encoded signals to multiple transmission antennas.