An official unveiling of Samsung smartphones running on Tizen may be on the horizon, following a number of leaks. A Samsung user agent profile for the GT-i8805 running on the mobile operating system has been discovered, while images have surfaced of a phone that is claimed to be the GT-i8805 running on Tizen 2.1.
The user agent profile on Samsung's own website, found by Techtastic, shows it as running the Tizen Browser on a Cortex A9 processor, with a screen resolution of 720x1280, and a mention of LTE connectivity. While the profile offers no other real details as to the specifications of the GT-i8805, what does come up suggests a mid-range device, and not the "high-end category" premium smartphone claimed by Samsung's Lee Young-Hee in March.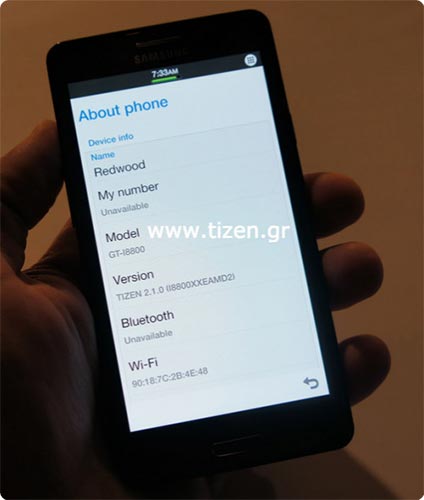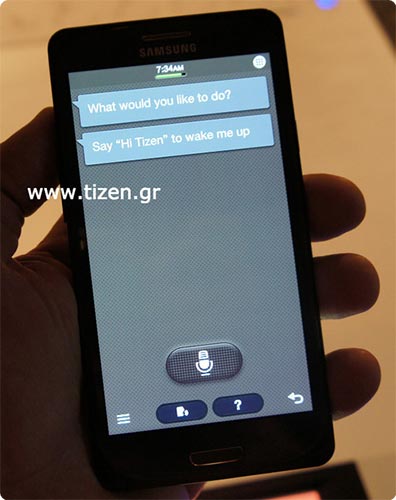 The leaked images from Tizen Greek Community show a handset in silhouette due to the brightness of the screen, again giving little away about the phone's appearance. The screen appears to list the GT-i8800's name as "Redwood," and running on Tizen 2.1.0. A basic settings screen is also shown, as well as what seems to be an implementation on Samsung's S Voice.
Tizen, as a mobile operating system, is one of a number of new offerings to the mobile operating system marketplace. Tizen, Ubuntu Phone and Firefox OS are all attempting to provide device manufacturers and carriers an alternative mobile OS to work with instead of Android, Windows Phone, BlackBerry, and iOS, with the aim of allowing more control over how the device operates to the user and to the network.