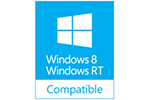 Windows 8.1 got leaked a few times in the last couple of months, giving us a glimpse into what the future operating system could look like when it hits the market in June 26.
No details have been provided on the Windows RT version, however, even though the tech giant has made it clear that its tablet-oriented operating system will also get a number of improvements.
Justin Angel has analyzed one of the leaked builds of Windows Blue to discover some of the features to be implemented into this particular build. The findings are pretty surprising to say the least.
First of all, Windows RT 8.1 will come with Bluetooth 4.0 support, as well as with new features for barcode scanners and magnetic card readers.
In addition, the operating system aimed at tablets is also expected to pack the same lock screen image apps and Metro tools we've seen in the desktop builds, including new tools such as a dedicated file manager.
"The KnownFolders class provides WinRT apps access to many windows folders such as music, pictures, documents and others. In Win8.1 The list of accessible folders expanded to contain the playlists folders, saved pictures and camera roll. That indicates that Metro Win8.1 apps can read and write from those folders," Justin Angel wrote, adding that read-write access to camera roll, saved pictures and playlists will also be part of the release.
Microsoft might also introduce VPN support for Metro apps, as many early adopters have complained that the existing VPN capabilities of the operating system are quite limited.
"It's great to see Microsoft adding a whole new Windows.Networking.vpn namespace to help deal with VPNs in WinRT apps. The new VPN API featureset is fundamentally about sending encrypted packets. It also supports VPN routing (what goes in the VPN connection and what doesn't), multiple VPN authentication methods (username, password, pin, smart card, credentials and more) and support for VPN namespaces," Angel concluded.