The 'Google Edition' of the Samsung Galaxy S4 running stock Android will be a US-only model it has been revealed. The long anticipated device is set to go on sale on June 26 for $649 will only be available through the US Google Play Store with no current plans to expand its availability internationally. The news will come as a blow to users who like what the Galaxy S4 hardware offers, but don't like Samsung's TouchWiz version of Google's Android operating system.
International users who want to lose TouchWiz on their Galaxy S4 will be forced to hack the bootloader on their device and install a custom ROM, many of which can result in losing certain aspects of device functionality. However, in reality, a stock version of the device will also lose many of the software enhancements and functions that are only available in Samsung's Android build. The upshot for US buyers is that the 'Google Edition' Galaxy S4 will be stable out of the box and will also have an unlocked bootloader as well.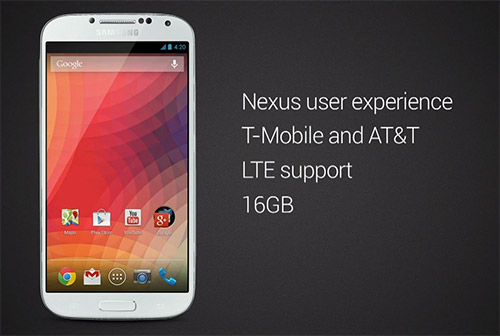 International customers will still have access to the Nexus 4 made by LG, which retails for just $299 for the 8GB version and $349 for the 16GB model. This is some $300 less than the Galaxy S4 'Google Edition,' highlighting its value proposition. Google is also planning to add a white version of the Nexus 4 to its lineup in the next fortnight with the latest version of Android, v4.3, preinstalled. Presumably this will make it to the current Nexus 4 devices as well as the stock Android version of the Galaxy S4 when it goes on sale.