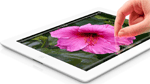 A report in the Taiwanese trade paper DigiTimes -- which has a mixed track record of accuracy -- claims that Apple will begin large-scale production of the fifth-generation iPad in July, with a possible launch in September. The new model is said to be significantly thinner than the previous full-size model, which was unveiled last September. The report also claims the unit will be a third lighter than the current model.
The new iPad model is said to use a thinner glass substrate for the display, down to 0.2 millimeters and a new touchscreen technology, along with only one LED light bar for backlighting yet retain Retina display quality, reports AppleInsider. The reduction of a LED light bar, if true, might increase battery life -- or simply be a needed sacrifice in order to make the battery light and thin enough to fit into the model. In either case, no loss of battery longevity is expected.
Analyst Ming-Chi Kuo has previously predicted that the next iPad would resemble the popular iPad mini in styling and feature a 15 percent thinner frame than the current full-size iPad. Panels for the new model are said to be coming from LG, Samsung and Sharp, while other suppliers for various parts such as Radiant Opto-Electronics, Coretronic and Taiwan Surface Mounting Technology and TPK Holding are also named in the report.