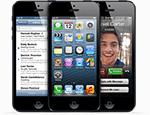 Rumors that Apple was going to incorporate a fingerprint sensor in the home button of the next iPhone still have no evidence to support them behind Apple's acquisition of Authentec in 2012. A new rumor has thus appeared, saying that Apple plans to do away with the physical push-style home button entirely in the next iPhone release, replacing it with a capacitive touch area that would perform the same functions. The new "button" will be covered in sapphire glass to prevent scratches.
The sapphire glass portion of the rumor, which comes from a Taiwanese tech site, would have Apple using the same kind of highly scratch-resistant glass coating on the alleged capacitive touch area as is currently found in the company's iPhone 5 camera. The home button as it exists is still prone to failure after years of routine or rough use. The move, if true, might be similar to the way Apple replaced the mechanical scrolling wheel in the early iPods with touch-sensitive areas on later models.
The claim appears to be incompatible with the competing "fingerprint sensor as home button" idea that had been floated previously. It's not known if a scratch-resistant shield would make the touch-based home button able to incorporate the sensors needed to have it double as fingerprint authentication, an idea Apple has show interest in developing.
The fingerprint-sensor rumor had the company combining the physical button with a fingerprint sensor, heightening device security by making the controls isomorphic to the user. Without the owner's fingerprint, the screen wouldn't unlock, and the user would never had to worry about setting a password.