Another confirmation for the existence of the Nokia Lumia 928 has surfaced, in the guise of a magazine advertisement. The promotion in Vanity Fair and accompanying product page arrives at the same time as rumors that the Lumia 928 will not be the only device launched at a Nokia media event being held in London on May 14th.
The Vanity Fair advert, found by Engadget, mentions the PureView technology hinted at by the recent billboard. Carl Zeiss optics, optical image stabilization, and good low-light photography is touted in the image, along with logos for Windows Phone and Verizon. A URL in the ad takes users to a page showing the same main image, though lacking the Verizon logos and flavor text.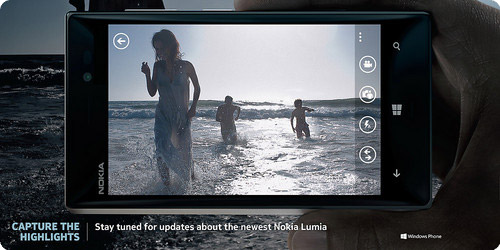 A rumor picked up by PhoneArena suggests that the second phone lined up for the launch will be the Lumia 925, an international version of the Lumia 928 but wrapped in aluminum, also known as Catwalk. The two phones will share the same internals, namely a dual-core Qualcomm Snapdragon S4 running at 1.5GHz, 1GB of RAM, 16GB of storage, and a 4.5-inch display running at 1280x768. The rear cameras will use an 8.7-megapixel sensor with an f/2.0 aperture, while a non-removable 2000mAh battery will provide power.