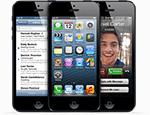 Production of a next-generation iPhone -- commonly labeled the iPhone 5S -- may be delayed, Reuters says. Japanese and Taiwanese supplier sources tell the news agency that 5S production was originally expected to start in June, but that Apple may be encountering manufacturing issues. In particular, one source says that Apple is building a fingerprint sensor into the phone, but having trouble finding a coating material that doesn't interfere. The company is known to be working on fingerprint technology, and some past reports have hinted that the 5S could mark its debut.
A source at a Japanese supplier meanwhile says that small-scale production of a display for a low-cost iPhone will get underway in May, and scale up in June. Multiple Reuters sources indicate that both the 5S and the low-cost iPhone will use a 4-inch screen, but that only the former will have fingerprint recognition. The budget iPhone is expected to use plastic casing.
The sources also claim that suppliers are trying to reduce their dependence on Apple in general, given uncertain demand for its devices. While the iPhone 5 has sold well, several analysts have suggested that demand is lower than anticipated, which could hurt Apple's March-quarter results slated to be announced tomorrow. Weaker demand is being blamed on a lack of innovation by Apple and intense competition from phones like the Samsung Galaxy S III.