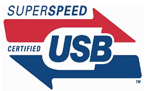 When the first Universal Series Bus 3.0 specification came out, it completely blew USB 2.0 out of the water by being 10 times as fast.
Now, the USB implementers forum (USB-IF) has something new to offer, something that is even better: USB 3.0 with 10 Gbps performance.
It is enough to directly challenge devices based on the Thunderbolt interface (10 / 20 Gbps for dual-channel implementations).
The new technology even includes the new USB power delivery specification (up to 100W power delivery).
"With the new SuperSpeed USB enhancement to increase performance up to 10Gb/s data rate, coupled with the USB power delivery specification capable of delivering up to 100 watts of power to USB-enabled devices, consumers will soon be able to have one USB cable to support all their needs," said Jeff Ravencraft, USB-IF president and chief operating officer.