Earlier this month a rumor surfaced that Samsung would begin calling its big-screen smartphones or "Galaxy Mega". At the time a device with a 5.8-inch screen in the device with a 6.3-inch screen were tipped. Both of those devices have now gone official.
The Galaxy Mega 6.3 will have a 6.3-inch HD resolution LCD screen with support for up to 720p HD content. The resolution of the Mega 5.8 is listed as QHD. Both of these smartphones will use Android 4.2 and dual-core processors. One difference between the devices is that the Mega 5.8 will use a 1.4 GHz processor while the Mega 6.3 uses a 1.7 GHz processor.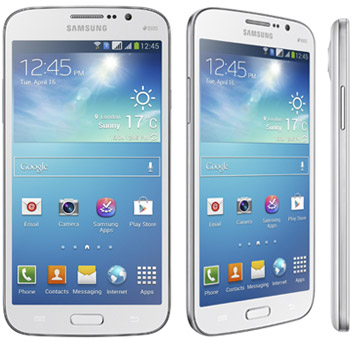 Samsung Galaxy Mega 5.8
Samsung Galaxy Mega 6.3
Both smartphones have a 1.9-megapixel front facing camera and an 8-megapixel rear-facing camera. Integrated storage for the Mega 5.8 is 8 GB while the Mega 6.3 will be available in either 8 GB or 16 GB configurations. Both devices also have a memory card slot with support for up to 64GB of additional storage.
Other common features between the two phones include Wi-Fi, Wi-Fi Direct, Bluetooth 4.0, GPS, GLONASS, and various sensors. The Mega 5.8 has a 2600 mAh internal battery and the Mega 6.3 has a 3200 mAh battery. The Galaxy Mega 5.8 measures 162.6 mm tall by 82.4 mm wide by 9 mm thick. The Mega 6.3 measures 167.6 mm tall by 88 mm wide by 8 mm thick.
Both Mega smartphones will land in Europe in Russia starting in May. Availability in other countries is unknown at this time. Pricing for the devices is unknown at this time.