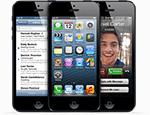 An unnamed "inside source" at Apple (and "confirmed" by an also-unnamed "third party") has alleged that Apple will introduce its next model of iPhone and iPad at a special event on June 29 in celebration of the sixth anniversary of the original iPhone. The dubious report claims the event will be called "Original Passion, New Ideas" to highlight that the "iPhone 5S" and "iPad 5" will be the first new products from Apple with no input from the company's previous CEO and co-founder, Steve Jobs.
According to the report published in Gizmorati, the event will celebrate the successes of the past six years -- which have seen a complete revolution in the cell phone industry following Apple's release of the original iPhone, and the kick-off of the "post-PC" era with the introduction of the iPad in 2010. Both devices received mixed reviews early on, but went on to completely redefine their respective product categories.
While the event would supposedly celebrate the contribution Jobs made to the success of both devices, the introduction of the new models would represent a form of break with the Jobs era and put CEO Tim Cook's stamp on the latest products, setting a tone for future releases. The alleged event is said to be taking place at Apple's headquarters in Cupertino, which would be a smaller-scale affair than the company would usually roll out for such a major product release.
Other rumors have speculated that the "iPhone 5S" could be released as early as June in order to better compete against other flagship competitors such as the new Samsung Galaxy S4, but there have been no credible reports thus far on a new full-size iPad model appearing that early. If the event were actually held on the exact anniversary, it would fall on a Saturday -- a very unusual day for Apple to release major new products.
Most rumors regarding an iPad release tend to focus on a possible Retina display-equipped "spec bump" of the iPad mini. The smaller version of the iPad has turned out to be the more popular of the iPad models since its release in October.
The report from Gizmorati doesn't mention any news of an iPad mini revision. In addition, Apple has tended to hold off on new iOS product releases until closer to the holiday buying season -- a strategy that worked spectacularly well for the company last year, resulting in both record sales and marketshare gain worldwide.