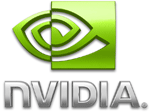 NVIDIA today unveiled a range of new Kepler-based Quadro professional graphics products that promise to offer high workstation performance and capabilities for professionals.
The new lineup includes the NVIDIA Quadro K4000, K2000, K2000D and K600 models.
The Quadro K4000 is a high-end card that delivers ultra-fast performance for graphics-intensive applications. It has 3GB of onboard memory, multi-monitor support and stereo capability in a single-slot configuration.
The K2000 is a midrange card. It comes with 2GB of onboard memory to hold large models and multi-monitor support.
A variant of the Quadro K2000, the Quadro K2000D natively supports two dual-link DVI display connectors for interfacing with ultra-high-resolution medical imaging displays.
Finally, the NVIDIA Quadro K600 is an entry-level card equipped with 1GB of onboard memory. It comes in a low-profile design for usage flexibility.
The new cards expand the Quadro technology family -- which includes Quadro K5000, Quadro K5000 for Mac, and the complete Quadro mobile workstation product lineup.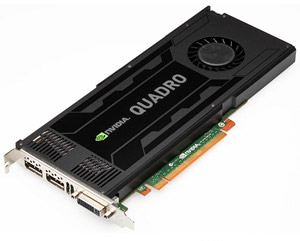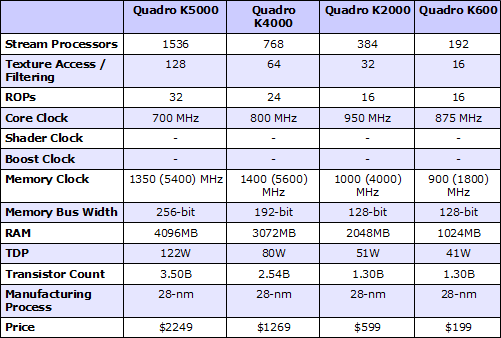 Available now, the new NVIDIA Quadro products have estimated U.S. retail pricing as follows: Quadro K4000, $1,269; Quadro K2000 and Quadro K2000D, $599; Quadro K600, $199.