Today the festivities at Mobile World Congress in Barcelona, Spain kicked off. Nokia announced the new Lumia 520 and Lumia 720 Windows Phone 8 devices aimed at the entry-level and mid-range smartphone market and earlier ASUS unveiled two Android tablets dubbed Fonepad and PadFone Infinity.
The Fonepad is a 7-inch tablet that features built-in 3G support for cellular voice and data. The device sports a 7-inch 10-point multitouch IPS display with a resolution of 1280 by 800 and at a first glance it's quite similar to the Nexus 7, which is also manufactured by ASUS, bar the phone functionality.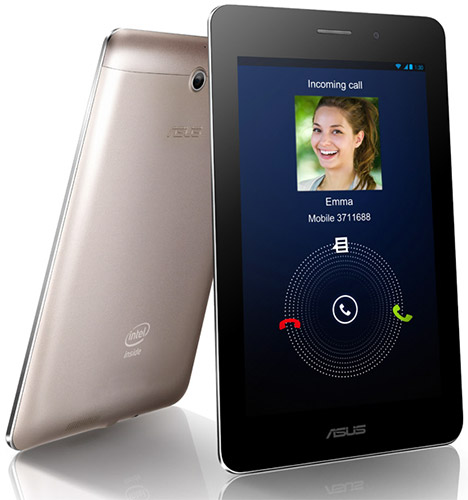 The Fonepad, however, is powered by Intel's Z2420 processor and runs Android 4.1 Jelly Bean. Other specs include a microSD card slot, which can extend the storage capacity by 32GB on top of the 8GB or 16GB built-in storage, 1.2-megapixel front-facing camera capable of 720p video recording as well as a 3MP back-facing shooter. The tablet sports a "metallic design", which usually implies plastic, that keeps the weight down to 340 grams. ASUS did not provide exact measurements, but says that thickness comes in at 10.4mm.
As usual the Taiwanese manufacturer also bundles its own branded app suite, including Floating App, SuperNote and WebStorage Office Online. With the purchase of the Fonepad users will receive 5GB of "free lifetime" cloud storage via ASUS WebStorage.
The Fonepad will be available from March with price starting from EUR219 for the 8GB version. ASUS also offers two accessories, a VersaSleeve 7 cover that features a folding design and a Turn Case hardshell case with a soft interior designed to clean the surface of the screen and provide a built-in stand. The former runs for EUR19.99 while the latter goes for EUR39.99 (MSRP pricing).
The PadFone Infinity is touted as a Swiss Army Knife, when coupled with the PadFone Infinity Station. The former is a 5-inch smartphone, but when docked to the latter it becomes a 10.1-inch tablet. The heart of this all-in-one solution is the PadFone Infinity -- it features a 5-inch display with a resolution of 1920 by 1080 and runs Android 4.2 Jelly Bean.
Power comes from a 1.7GHz quad-core Qualcomm Snapdragon 600 processor. In this regard the PadFone Infinity is similar to the HTC One and the LG Optimus G Pro, both of which also feature 2GB of RAM. The ASUS-made device also sports 64GB of built-in storage, a 13MP back-facing camera with a f/2 lens that can capture 100 sequential photos and shoot 1080p video. Battery life is quoted at up to 19 hours of 3G talk time, with the docking station capable of fully-recharging the smartphone up to three times.
Like with the Fonepad, ASUS also adds its own app suite which includes SuperNote 3.1, Story and ASUS Echo. Combined, the PadFone Infinity and the PadFone Infinity Station will run for EUR999 (MSRP).