How big is too big for a phone? I would have said that my 4.65-inch Galaxy Nexus is large enough, but the 5.5-inch Galaxy Note II proves me wrong and must admit after picking one up I think it is usable as my everyday phone. Now ZTE trumps Samsung today at Mobile World Congress by unveiling the Grand Memo -- a "phablet" with 5.7-inch screen. Smartphones continue to meld with tablets.
The new ZTE model debuts with a nice set of specs: Qualcomm Snapdragon 800 processor with quad-core Krait CPU, extremely generous 3200 mAh battery, 5.7-inch 720 x 1280 display, 2GB of RAM, 16GB of storage, WiFi, 4G LTE, Bluetooth 4, a 13-megapixel rear-facing camera, and rather standard 1MP front-facing camera. All of this is packaged in a very thin 8.5 mm case.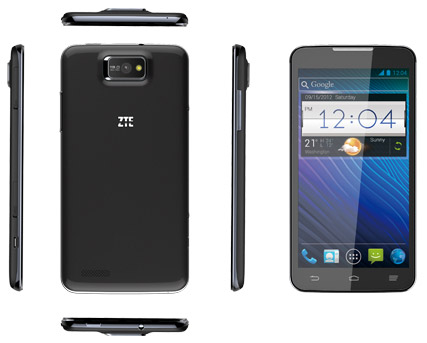 He Shiyou, ZTE EVP and head of the Mobile Devices Division, says that "high-definition screen makes it perfect for media and entertainment, but its uses reach far beyond that". He adds that ZTE has "really tried to make this device fun for use at home, and practical for use in the office. By combining both of these factors, we have created a well-rounded large-screen handset that is suitable for any situation".
If there is one knock on this device -- aside from some users potentially balking at the size -- it would be Android 4.1, despite the fact version 4.2 of Jelly Bean has been on the market since October of 2012.
So what do you think of these new "phablets"? Is the screen too big, or is it just what you have been waiting for?