Huawei today introduced the HUAWEI Ascend P2 at the 2013 Mobile World Congress (MWC). The Ascend P2 features a 1.5 GHz quad-core processor and LTE Cat 4 providing download speeds of up to 150 Mbps.
Continuing the fashion legacy of the Ascend P-series, the Ascend P2 is 8.4mm slim with an infinity edge 4.7-inch IPS HD in-cell touch display with second-generation Corning Gorilla Glass, and will be available in black and white.
The smartphone runs on the Android 4.1 operating system, with Huawei's own Emotion UI 1.5. It is powered by a 2420 mAh battery and 1.5 GHz quad-core processor. Huawei's proprietary 'swift sharing' supports uploads and downloads two to three times faster than other smartphones in a Wi-Fi environment, Huawei claims. With its NFC module, Ascend P2 enables e-payments and can act as an electronic ticket. Huawei's Quick Power Control (QPC) and Automated Discontinuous Reception (ADRX) power-saving technologies, reduces power consumption by 30% and charging time by more than 25% compared to other smartphones.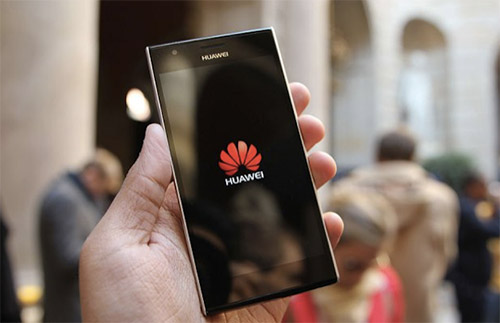 The 'magic touch' feature provides enhanced screen responsiveness even with gloves, and instant keyword translation and Wikipedia searches can now be done on a single window with 'smart reading'. The screen also calibrates its brightness automatically under any light conditions.
The HUAWEI Ascend P2 provides photo and video features including a 13 MP BSI rear-facing camera with HDR, and a 1.3 MP front-facing camera to support self-portrait and video shooting. A dedicated camera key on the side of the phone also allows instant access to picture taking, click once for the camera to be activated and another time to take the shot. With Huawei's advanced camera algorithm, high-definition images can be captured even in backlit conditions. Auto adjustment modes further enable Ascend P2 to produce photos that rival professional cameras.
The Huawei Emotion UI, available on the Ascend P2 is easy to use and customize. The UniHome function combines home panels with the main menu, while Huawei's patent-pending Me Widget better utilizes screen real-estate by combining all the information and functions you need in a single, customizable widget. Emotion UI is also pre-installed with a smartphone housekeeper function to support real-time data traffic tracking, automatic blacklisting and blocking, periodical system cleaning, and spontaneous exiting of idle programs and cache cleanup, in addition to anti-virus, energy saving, privacy protection, software management, and more.
The HUAWEI Ascend P2 will be on sale in France through Orange in June 2013. It will also be available globally around the second quarter of 2013 for about $525 without a contract.