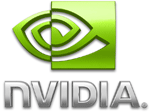 NVIDIA has today officially introduced the new GeForce GTX TITAN, designed to power gaming PCs including personal gaming supercomputers and small form-factor PCs.
"GeForce GTX TITAN is a beast of a GPU -- and the only one in the world powerful enough to play any game at any resolution at any time," said Scott Herkelman, general manager of the GeForce business unit at NVIDIA. "And yet, all of this immense power is housed in a sleek, sexy design, so gamers can also build beautifully-designed PC gaming machines about the size of a gaming console, yet magnitudes more powerful and always upgradeable."
GTX TITAN is built with the same NVIDIA Kepler architecture that powers Oak Ridge National Laboratory's newly launched Titan supercomputer, which is number 1 in the list of the Top500 supercomputers in the world.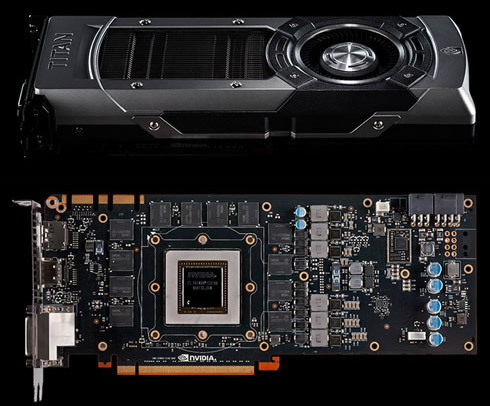 The graphics card features an array of technologies complemented by sleek materials that contribute to the design of the card, including a high-quality exterior aluminum frame and vapor chamber cooling.
Performance figures showed below include a comparison of the GTX Titan with the Nvidia GTX 680 in Crysis 3 and acoustics. The GTX Titan is shown to deliver 30% percent higher frame-rates, while it's also quieter than the GTX 680. A 3-way SLI GeForce GTX Titan configuration also looks faster than four GTX 690 dual-GPU cards (quad-SLI), depending on the game title.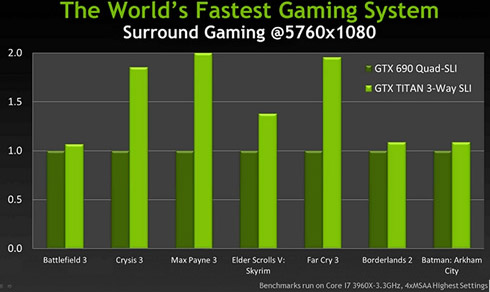 Nvidia claims that by harnessing the power of 3 GeForce GTX TITAN GPUs simultaneously in 3-way SLI mode, gamers can max out every visual setting without fear of a meltdown while playing any of the most demanding PC gaming titles. The company also says the GTX Titan is delivers 30% percent higher frame-rates, while it's also quieter than the GTX 680.
The GeForce GTX TITAN contains 7 billion transistors; it has 2,668 GPU cores -- 75% more than the Company's NVIDIA GeForce GTX 680 GPU and delivers 4.5 Teraflops of single precision and 1.3 Teraflops of double precision processing power. The 2,688 CUDA cores mean that some cores of the card's GK110 silicon are disabled by default as GPU originally features 2,880 CUDA cores.
The card also carries 6GB of GDDR5 memory with a 384-bit wide memory interface, and is powered by 6-pin and 8-pin PCIe power connectors.
The card supports the new GPU Boost 2.0 technology, which automatically boosts graphics performance and supports unlocked voltage and advanced controls for even more gaming control and overclocking customization.
The GTX Titan is clocked by default at 837 MHz and its clock reaches the 876 MHz through the GPU Boost technology. NVIDIA rates the card's TDP at just 250W.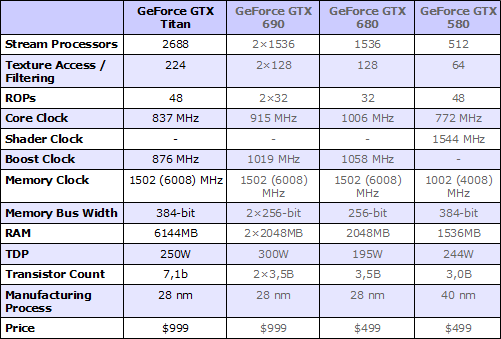 The GeForce GTX TITAN GPU will be available starting on February 25, 2013 from NVIDIA's add-in card partners, including ASUS and EVGA in North America, and additional partners, including Colorful, Galaxy, Gigabyte, INNO 3D, MSI, Palit and Zotac outside the US. Pricing is expected to start at $999 USD.