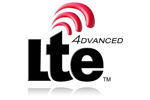 Broadcom on Tuesday announced that it has commenced testing of a new LTE chip with its largest customers. The chip is the first of its kind from the manufacturer, and is aimed at competing products from LTE leader and pioneer Qualcomm. Broadcom said today that it expects devices with its LTE chip to go into production in 2014.
The 28nm BCM21892 chip, which will be formally unveiled during the Mobile World Contress show late next week, provides cellular baseband along with a world-band radio in a form factor that the company claims is 35 percent smaller than currently-available chips. The chip provides all 3GPP standard technologies, including 4G LTE-Advanced with carrier aggregation, HSPA+, TD-SCDMA and EDGE/GSM.
Broadcom claims that advanced power management techniques shave 25 percent off of the chipset's power requirements as compared to competitors, as well as offer LTE Category 4 support. No pricing information has been provided, nor has a list of companies testing the technology. Apple, among others, does use Broadcom chips in its iOS devices.