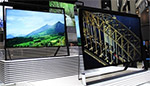 The Japanese government will start 4K TV broadcast in July 2014, a move that could to help sales of ultra high-definition televisions, the Asahi newspaper reported on Sunday.
The cope with the huge bandwidth requirements for transmitting 4K signals, the Japan will use unused capacity through communications satellites, followed by satellite broadcasting and ground digital broadcasting.
The 4K TVs or UHDTVs boast four times the resolution of current high-definition TVs, are now on sale by Japanese makers including Sony, Panasonic and Sharp as well as by South Korea's LG Electronics and Samsung Electronics.
According to the ITU's specifications for UDTV, the first level of UDTV picture levels has the equivalent of about 8 megapixels (3,840 x 2,160 image system), and the next level comes with the equivalent of about 32 megapixels (7,680 x 4,320 image system).
Japan public broadcaster NHK - which famously initiated HD as far back as 1969 - has been also working on 7,680 x 4,320 or "Super Hi-Vision" image systems (8K.)
Super Hi-Vision standard has been recommended by ITU-R to become an international standard. It allows for programming and broadcasts at resolutions of up to 7680 by 4320, along with frame refresh rates of up to 120Hz, double that of most current HDTV broadcasts. The format also calls for a broader palette of colors that can be displayed on screen. According to specifications of SHV video for TV broadcasting, the 7,680 x 4,320 (progressive) video is provided in the 16:9 aspect ratio and is available in 120, 60 or 59.94 frames per second (FPS). Gradation is 10,12 Bit/pixel.
NHK has already succesfully tested transmissions of 8K video using terrestrial transmission technology, although for small distances.
Japan's Ministry of Internal Affairs and Communications plans to launch the test 8K TV broadcasts in 2016, when the Summer Olympics will be held in Rio de Janeiro.