Samsung 2013 home entertainment lineup includes new Smart features, larger screen sizes with high picture quality and elegant designs.
New features found in Samsung's new TV lineup include a new Smart Hub, S-Recommendation with Voice Interaction, and enhanced content connectivity.
Samsung's new S-Recommendation technology enables the discovery of personalized content based on previous viewings and user ratings. Available on Samsung 2013 Smart TVs, home theater and Blu-ray players, S-Recommendation checks preferred content across various services including broadcast TV, streaming video on demand content, applications, social content and locally-stored content from personal devices to ensure there is always something to watch.
Samsung Smart Hub has also been redesigned to simplify the process of discovery for users. Apps and content are arranged into five dynamic panels with an easy-to-navigate interface and dynamic thumbnails for instant previews.
'On TV' shows the channel that is currently playing as well as the most relevant, personalized suggestions that may be airing shortly based on consumer viewing habits.
'Movies & TV Shows' is an easy view of movies and TV services and over-the-top content are available from various content providers. Content is recommended based on the consumer?s viewing habit.
'Photos, Videos & Music' allows consumers to organize personal content and files on Samsung Smart TVs and other linked devices.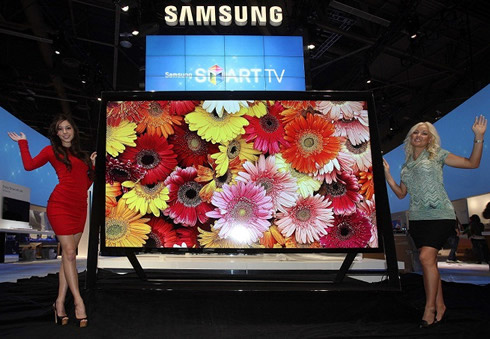 'Social' highlights user created content from friends and family, popular videos from Facebook, Twitter, YouTube, and video call services.
'Apps' organize downloaded Samsung Apps and recommendations for easy access.
In 2012, Samsung launched the industry's first TVs with voice and gesture controls. This year, Samsung is giving users a more intuitive way to navigate and control the Smart TVs.
Samsung's advanced Smart Interaction utilizes powerful algorithms to ensure even more accurate facial recognition, voice and motion controls. With enhanced Voice Interaction, users can use everyday language ?to command the TV. Viewers can also ask their TV to search for content currently available by actor, title or genre and it will provide recommendations.
Gesture Control now recognizes more natural movements, with two-handed gestures and better viewing environment flexibility. Viewers can pinch to zoom, or use a swipe motion to easily navigate between Smart Hub panels.
Samsung's Smart View also allows userss to move their content between devices in real-time; AllShare connects the TV to compatible mobile devices and home appliances wirelessly and creates a smart center for media and whole-home automation. Users also gain the ability to mirror their TV content on compatible Samsung GALAXY tablets and phones.
Finally, owners of flagship Samsung 2012 TVs will be able to update their TVs with the latest Smart TV features simply by slotting in the 'Evolution Kit' without having to buy a new TV.
Enough said about the features, let's move on to the new TV models.