Corning Incorporated today announced that it will highlight the company's newest specialty glass solutions, including Gorilla Glass 3, at CES. The new composition boasts durability enhancements, including three times the scratch resistance of the current generation of glass, found in the iPhone 5 and fourth-generation iPad.
According to a report from Engadget, the new formulation of the glass has been improved at the molecular level, implementing a Corning-specific feature called "Native Damage Resistance." The new technology cuts the appearance of scratches, reduces flaw propagation, and maintains the overall strength of the glass -- a common complaint of the Gorilla Glass 2 product. Native Damage Resistance is said to give a 40 percent reduction in the number of visible scratches, and a 50 percent gain in retained strength after the development of flaws in the glass.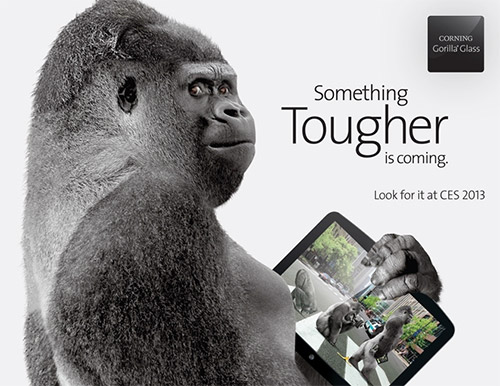 At the Consumer Electronics Show, Corning is expected to "demonstrate its industry leadership in specialty glass and fiber optic technologies with the introduction of two products designed to enhance and extend the capabilities of consumers' favorite devices," said Wendell P. Weeks, chairman, chief executive officer, and president. "These new innovations build on the increasingly important and continually evolving role of highly-engineered glass technologies in delivering improved product performance and functionality through touch capabilities, protective cover glass, and device connectivity."
Gorilla Glass is the trademark for a sheet glass manufactured by US glassmaker Corning. Engineered for a combination of thinness, lightness, and damage-resistance, it is used primarily as the cover glass for portable electronic devices and was prodded into production by Steve Jobs during the development of the first-generation iPhone. By 2010, Gorilla Glass had been used in approximately 20 percent of mobile handsets worldwide. On October 24, 2012, Corning announced that over one billion mobile devices used Gorilla Glass.
Other product releases expected from Corning at the CES are fiber-based Optical Cables, giving device-to-device connectivity solutions to significantly extend the data transmission range past the limits of copper-based cables. Full product details for both products are expected on January 7.