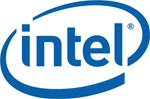 Intel's next-generation Haswell and Broadwell SoCs are due out next year and in 2014, respectively. Chinese site EXPreview have posted online some details about the new microprocessors' naming and specs.
Intel's 4th Generation Core processors codenamed "Haswell" will be available for desktops, mobile devices and ultrabooks. According to information posted online, the Haswell chips will all feature IGP cores, they will be available in dual (1M die with two cores and 4 MB of L3 cache) and quad-core versions (2M die with four cores and 8 MB of L3 cache.)
Haswell chips will be available in desktop LGA, mobile PGA, mobile BGA, and SoC a packages. Regarding their naming you see in the table below, the "DT" denotes a chip designed for desktops and the LGA 1150 socket; the "MB" will be used for chips mainly focused on notebooks and will be available in BGA and PGA packages; the "ULT" (Ultra Low TDP) will be ultra low-poer Haswell chips available in BGA (SoC) and finally the "ULX" or Ultra-Extreme Haswell chips for small devices such as tablet PCs.
Continuing with the Haswell naming, another kind of grading for Intel's new silicon is related to its on-die graphics processor. Depending on the number of programmable shaders and ROPs unlocked, there are two grades: GT2, and GT3, with GT3 being the most powerful. According to the information posted online, the desktop chips will feature the most powerful GT2 graphics cores.
Going further, Intel's fifth generation "Broadwell" SoC will be released in 2014. Information and naming are listed below. Besides the mobile and low-power versions of the chips, the series "Broadwell" reportedly includes an LGA1150 desktop processor: