AMD has just released some information about the upcoming Radeon HD 8000M series of mobile GPUs.
AMD's second generation of products featuring the GCN (Graphics Core Next) architecture targets gamers with full DirectX 11.1 support and improved gaming performance over the previous-generation (HD 7000.)
The Radeon HD 8000M series of products are based on new GPUs manufactured using TSMCs 28nm process node. AMD claims that the chips have improved power efficiency (GPU compute, Accelerated Video playback, image quality enhancement) and performance versus the previous generation, although the company has not clarified what exactly has changed or optimized.
As you see in the images below, the new HD 800 GPUs (HD 8500M, 8600M, 8700M, and 8800M ) support DX11.1. The Radeon HD 8500M sports 384 Stream Processors with an Engine Clock up to 650MHz; the memory clock will vary based on the use of GDDR3 or GDDR5 memory. The Radeon HD 8600M is essentially the same, but with a slightly higher Engine Clock up to 775MHz. The Radeon HD 8700M is also based on the same GPU, but will be clocked at up to 850MHz, for a further increase in performance over the 8600M.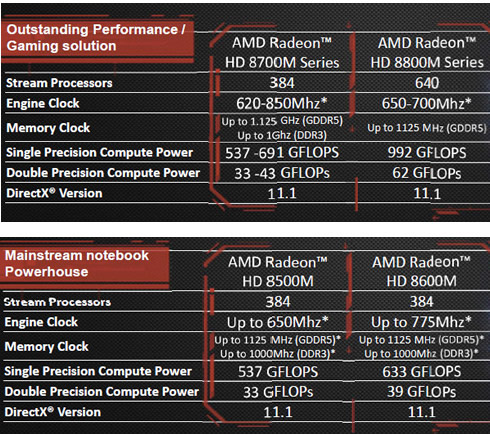 The Radeon HD 8800M series is based on a more powerful chip. It will sport 640 Stream Processors with an engine clock of up to 700MHz. GDDR5 memory will be used exclusively, at speeds up to 1125MHz.
Performance-wise, AMD expects the new GPUs to be quicker than their predecessors. The company's internal benchmarks show gains of around 20-50% from the Radeon HD 7590M to the Radeon HD 8690M, and about as much from the 7670M to the 8770M.
Today's new releases will form the middle of the new lineup when they arrive in Q1, and according to AMD there'll be further additions aimed at the "enthusiast" end of the spectrum in Q2 2013.